OLIVIER MOSSET
Olivier Mosset (b.1944) is one of the central figures in post-war abstract painting, and a pivotal reference for generations of European and American painters. Associated with Daniel Buren, Michel Parmentier, and Niele Toroni, he was a member of the ephemeral B.M.P.T. "group." His extensive series of circle paintings, executed in the late 1960s and early 1970s, is among the most widely discussed works of that era.
In the heady climate of Paris pre-May '68, the four painters organised "manifestations" rather than exhibitions and adopted a stance in opposition to the European tradition of "cultivated painting," whether figurative or abstract. As critic Bob Nickas has observed, Olivier Mosset has always been closely engaged with abstraction and the history of abstraction: "his approach considers painting in terms of production and reception, while acknowledging its social and political dimensions."
Mosset moved to the US in 1977 and was part of the vibrant New York art scene of the 1980s. His later paintings explore monochrome and geometric abstraction, with all the analytical rigor of his early works. With hindsight, Mosset emerges as one of very few European painters to place themselves within the American tradition of large-scale painting (the legacy of Frank Stella, Robert Ryman, or Barnet Newman), but he remains attentive to developments within the art scenes he traverses, too, and has supported artists whose practices differ from his own.
Occupying virtually all the museum , MAMCO's retrospective reviews his career over almost 60 years, from the early experiments of the 1960s to his monumental recent works, via the painter's reflections on artistic appropriation, monochrome painting, and shaped canvases.
At the same time, several rooms are devoted to movements and artists with whom Mosset was or remains closely associated, allowing us to consider his work in a variety of different contexts. In addition to a section devoted to the activities led with Buren, Parmentier, and Toroni, the exhibition features works by Nouveaux Réalistes (notably Jean Tinguely and Daniel Spoerri, for whom Mosset worked as an assistant), experimental film-makers' collective Zanzibar (with whom Mosset directed, acted in and produced a number of films), American "Radical painting" of the 1970s and 1980s (including Marcia Hafif and Joseph Marioni) and artists such as Sherrie Levine, Steven Parrino, Cady Noland, John Armleder, and Sylvie Fleury, with whom he has maintained a regular dialogue.
L'APPARTEMENT
The "Apartment" is no ordinary exhibition space. Located up on the museum's third floor, it is a reconstruction of the Paris apartment where, from 1975 to 1991, Ghislain Mollet-Viéville worked to promote Minimal and Conceptual art. Calling himself an "art agent," Mollet-Viéville initially organized his living and work space to conform with the protocols of the works in his collection, before deciding to yield to the consequences of their "dematerialization" and move to a new apartment with no visible works. This meant his collection could be entrusted to MAMCO when it opened, in 1994. In 2016, the museum has begun to acquire a large part of it—the works on view in the following galleries.
The 25 works from the collection are representative of the work of the first-generation Minimalist artists such as Carl Andre, Donald Judd, and John McCracken, and of their Conceptual counterparts—Joseph Kosuth, Sol LeWitt, and Lawrence Weiner, for example. If the former explore a lexicon of elementary, logical, and radical forms that keep at bay any anthropomorphism and narrative features, the latter mainly offer protocols for execution, turning the collector into an agent on whom the works' material existence depends. Both have dispensed with pedestals, frames, lighting, and all other mise-en-scène props, in favor of an immediate intellectual and sensory experience.
Compared with MAMCO's other galleries, the "Apartment" sets the works the challenge of a domestic setting. For visitors this means the opportunity to experience them on more intimate terms, in a space where they are invited to step outside the conventions, whether attending a lecture, a special event, or simply pausing to read and to linger a while in the company of works that have been talking among themselves for several decades now.
KRISTIN OPPENHEIM
Visitors entering the sound installation of seven musical sequences by Kristin Oppenheim (*1959) find themselves at the heart of the medium of song. The a cappella voice retains the essence of the original song: a short melody and one or two phrases. The artist appeals to the individual and collective memory by featuring a familiar tune, played on a loop.
The voice comes close, sharpens our senses and envelops us in its gentle warmth. A second, more distant voice overlays the first and expands the sound-space. The spatialization and reverberation of the voices enables us to ascertain distance and become aware of the space. Our listening is conditioned by the way in which sound is inscribed in space.
The work also brings primal sensations to the surface, through vocal vibrations, the shifts back and forth between the voices, and the rhythm, comparable to that of breathing. The body is more than a screen onto which the voices project: it is a permeable, receptive organism that allows us to rediscover the tactile properties of sound. And yet, contrasting with this conscious physicality, we detect a kind of evanescence at work, the absence of a body projecting this plain, unadorned song into the empty space.
Oppenheim's use of lyrics also evokes a sense of lacking, inadequacy and distance from the other: the artist glimpses a figure in Through an Open Window (1992); she is neglected in Shiver (1992), she weeps in  Cry Me a River (1992), then in more seductive mode, calls out "Squeeze me tight" in Starry Night (1993). In The Spider and I (1993), a strikingly visual cover of Lesley Gore's song I Would, she sings of all the journeys she would make for love: "I would swim the coldest oceans, I would walk in burning sands, I would crawl across the desert with my heart held in my hands." The title of Oppenheim's work suggests the voice spinning its threads in space, like a web.
For Kristin Oppenheim, voices take the place of figures, as they accompany the visitor. Singing allows her to play on a comprehensive range of emotions. The use of melody favors the development of more haunting, vulnerable, cajoling vocal nuances. Ultimately, the tone and the use of repetition seek to reveal other voices, buried deep inside us all.

TONY CONRAD
Tony Conrad (1940-2016) had made discreet but essential contributions to contemporary culture. His work takes the form of diverse interventions in widely differing cultural spheres: music, cinema, video, painting, teaching, and media activism. From a systematically marginal standpoint, he pursued a mission to question cultural codes and institutions perceived as normative and authoritarian; encompassing authorship, musical composition, camerawork and editing in film, perspective and the media. Merging radical critic and wit humor, he elaborated an idiosyncratic oeuvre that defies classifications.
Hence, while his influence is felt across the contemporary culture, his name is relatively little-known to the public at large. "I don't mind being anonymous though. I hate celebrity," he confessed in 2016, positioning himself at the antithesis of Warhol's oft-cited assertion that "in the future, everyone will be world-famous for 15 minutes."
The history of this wide-ranging, subtle offensive begins in 1962, when Conrad developed his drone sound, playing and sustaining extremely long notes on his violin as part of the collective Theater of Eternal Music. From 1962 to 1965 the group—including La Monte Young, Marian Zazeela, Angus MacLise, and John Cale—opposed the Western tradition as an extension of the revolution set in motion by John Cage.
Yet, Conrad already ducked out of the spotlight and moved on to experimental cinema. His film The Flicker (1966) contested both the medium of film and the passivity of the movie-goer, and drew instant adulation from devotees of structural film. Conrad's characteristically witty, off-beat reaction was to take his exploration of the medium of film to the next level by "cooking" virgin celluloid in a variety of ways: fried, roasted, marinated, or as sukiyaki. The results were viewed in preserving jars, rather than on screen (1973–1974).
Conrad's parallel series of Yellow Movies (1972–1973) combined his film experiments and his obsession with long durations. Flat expanses of cheap white gloss were painted on cheap paper the proportions of cinema screens, designed to yellow over time. Conrad's definition of those monochromes as never-ending "films" extended his critique of cinema to painting.
In the 1980s Conrad persevered and undertook a stronger media critic. He made films and installations on power and authority, collaborating with Mike Kelley and Tony Oursler (Beholden to Victory, 1983; Jail Jail, 1982–1983, Panopticon, 1988). In parallel he intervened directly at the heart of the media machine, with Studio of the Street (1990–1993), a program broadcast on public-access TV, which gave a voice (and face) to citizens of Buffalo (New York State). After that, the Homework Helpline (1994–1995) was a program supporting school pupils from underprivileged neighborhoods.
From the mid-1990s until his death in 2016, Conrad revisited his work as a whole, in a process of unification. He gave concerts and lectures worldwide, and embarked on new series of works. The MAMCO exhibition sets out to retrace his career over nearly sixty years of cultural activism, while at the same time acknowledging the artist's stance vis-à-vis the methodologies underpinning the display of his work in contemporary art institutions.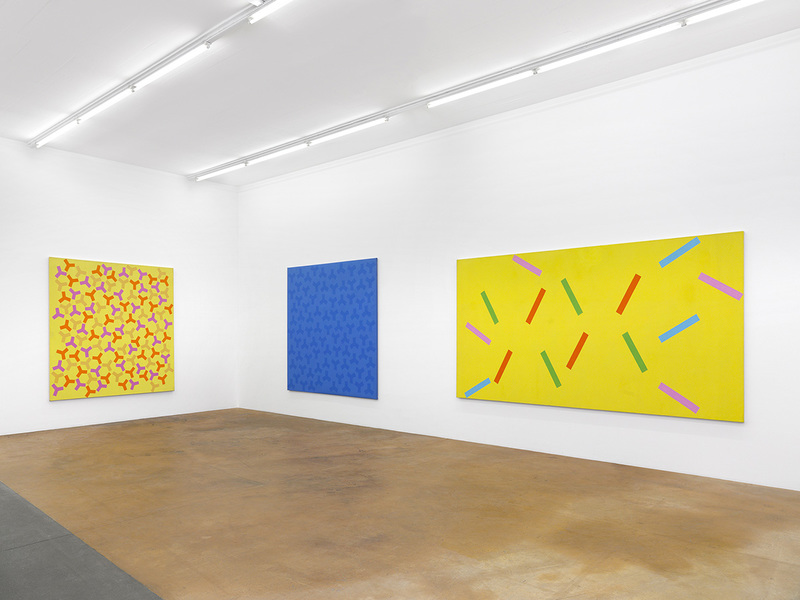 ROSEMARIE CASTORO
Time = space between appointment and meeting: these few words, written (or rather, drawn) by Castoro on November 3, 1968, may be seen to summarize both the artist's wilfully complex practice, with its combined emphasis on the analytical and inter-personal, and its deeply divided reception.
At her SoHo loft in New York City, where artists like Lawrence Weiner, Sol LeWitt, Agnes Martin, Carl Andre, and Yvonne Rainer met, Rosemarie Castoro (1939–2015) developed a distinctive, unclassifiable artistic approach. She took part in Distillation, for example, an exhibition organized in 1966 by Eugene Goossen, the high priest of an American school of painting freed from external influence. Together with Christine Kozlov and Adrian Piper, Castoro was one of the women artists featured in Ursula Meyer's anthology of Conceptual art in the late 1960s.  She also took part in Lucy Lipard's famous Numbers exhibition of the same period. Lippard included Castoro in her own anthology of Conceptual art, with a work in situ of which MAMCO holds a photograph: the space of the Paula Cooper Gallery marked by a fault-line traced in half-inch wide adhesive aluminum tape.
Traversing the most recent modernist narratives—namely Minimal and Conceptual art—Rosemarie Castoro's work tirelessly explores the things that elude the latters' grasp: the context of enunciation, of course, but also the psychological and social implications of the body as a physical instrument. She explores the potential of abstract and monochrome painting, then expands their sphere and modes of operation, in formal terms, to incorporate the body, and even the exhibition space—a conceptual extension, both diagrammatic and linguistic. In so doing, Castoro applies a hitherto structuralist, reductionist language to poetry, and distorts elementary forms by her haptic, integrated, sexualized treatment. As an erstwhile participant in the reflections of the Art Workers' Coalition, she approached the modernist heritage from a social and political perspective.
From 1965 to 2015, Rosemarie Castoro developed a body of work in which "contingency" may be seen as a connecting thread, signifying a determination to free herself from the rhetoric of the masculine values of permanence and the absolute. Organised into chapters, the exhibition offers a retrospective journey through the practice of an artist who favored transgression and metamorphosis over orthodoxy and linear progression.

MARTIN BARRÉ
Martin Barré was born in Nantes in 1924. He studied architecture and painting at the city's Ecole des Beaux-Arts and settled in Paris at the beginning of the 1950s. He made his début on the Paris art scene with solo and group exhibitions in 1954 and 1955. Abandoning the vocabulary of his student years, he applied himself to the development of a distinctive, abstract oeuvre—an undertaking he pursued with exceptional rigor and originality over the following four decades, until his death in 1993.
His work as a whole displays remarkable coherence but is nonetheless generally divided into five periods. From 1954 to 1962, an initial phase gives form to an unprecedented synthesis of the artistic lessons of the first half of the 20th century and post-war abstraction. From 1963 to 1967, Barré developed a pioneering corpus in the history of contemporary painting, using aerosol sprays to create performative works that capture gesture and time on canvas. His so-called "conceptual episode," from 1969 to 1971, was a period of experimentation with the conceptual possibilities of photography and the exhibition-as-artwork—new avenues for his exploration of the medium of painting and the conditions that shape its making and display. Barré's return to painting in 1972 heralded two decades of creativity. From 1972 to 1977, he explored the structure of paintings through the use of a visible grid plan, overpainting and mark-making, followed by the investigation of colour and combinatory processes from 1979 to 1992.
Working sequentially, Martin Barré mobilizes the full range of pictorial parameters to liberate the dynamic, spatial, and cerebral potential of painting as a medium. By conceiving each picture of and in itself, and in relation to the other pictures in the series of which it is a part, Barré conducts his work with precision, applying an almost linguistic approach to painting. The formation of the picture is supremely important: it is here that his selective interplay evolves, between colours and areas left in reserve, between the foreground and background, the picture space and the space out-of-frame, effects of transparency and the border.
MAMCO's exhibition is Switzerland's first large-scale presentation of work by this pivotal figure in mid-to-late 20th-century art. Featuring representative works from each period, the show retraces Martin Barré's engagement with the medium of painting: the enterprise that lead him to experiment ceaselessly with the sensory, cerebral, chromatic, and physical properties and possibilities of pictorial form. For Barré, painting is a conceptual and visual "playground," a space to think, and a place where thoughts can assume material form.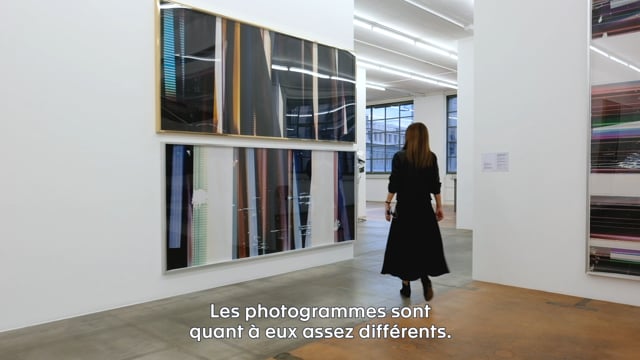 WALWAD BESHTY
Walead Beshty (*1976, London, lives in Los Angeles) first became known for his large-scale photograms, seemingly abstract images that in fact tell the story of their own making. Produced by folding and processing light-sensitive paper, the works develop patterns of angles, creases, and folds, while their colors are generated by the chemicals of the developing process. In 2006, for his "Travel Pictures" series, shot in the then-recently defunct Iraqi Diplomatic Mission in Berlin, he explored the damages airport security's X-ray scanners can do to images, making them not only "relics" of a site but of his own travel experience altogether.
Pursuing his reflection on displacement and global transit, he realized in 2007 his first "FedEx Sculptures" in which shatterproof glass boxes are shipped to various destinations in standard FedEx containers—the works' final appearance being determined by the damages accumulated while travelling. Displayed alongside the material evidence of these journeys—the opened FedEx boxes complete with waybills, time stamps, and dated forms—these glass sculptures reveal the violence of globalization that most commodities conceal and thus demonstrate the artwork as vulnerable as a body moving across international borders.
In 2014, for his exhibition at London's Barbican Centre, Beshty showed an installation of over 12,000 blue cyanotype photograms of tools and remnants from the artist's practice "exposed" on debris materials found in the studio. His "copper" works from the 2010s register the manipulation and labor involved in their production, installation, and displacements. Much like film capturing a moment in time, they map the labor involved in art's context. All these works thus interrogate the space within which contemporary art and its discourse are produced and distributed, while postulating the art object as dynamic, rather than static.