GUCCI DÉCOR | NEW ROMANTICS
Designed by Alessandro Michele to create highly distinctive, imaginative, and poetic pieces,
introducing the new Gucci Décor line.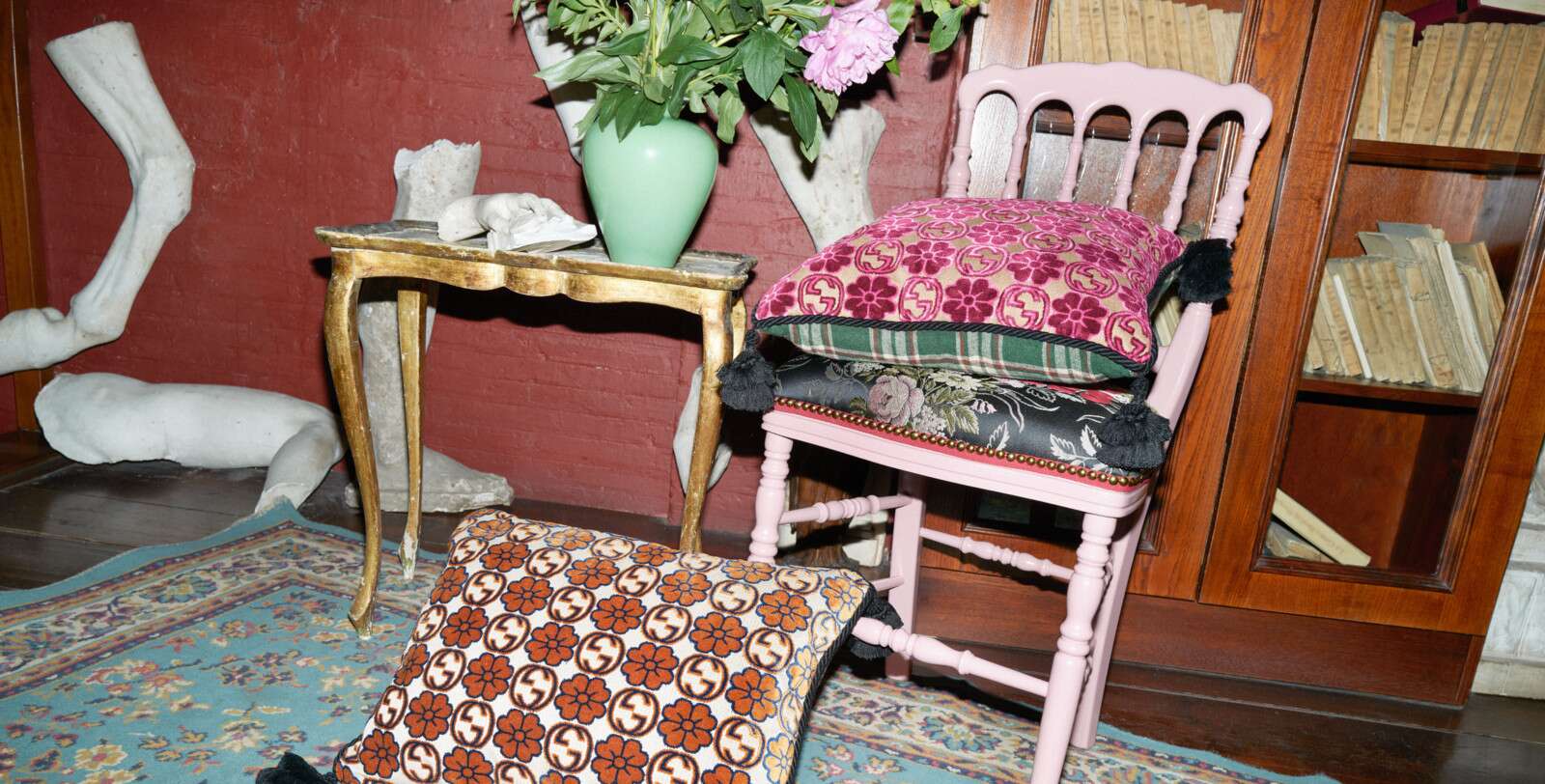 Personal space is a canvas on which we can express ourselves, and Gucci Décor was developed by House Creative Director Alessandro Michele to provide highly distinctive, imaginative and poetic pieces to bring joy into our lives. This collection of furniture, furnishings and decorative items from the House enables us to dress our living spaces in a way that is both creative and contemporary.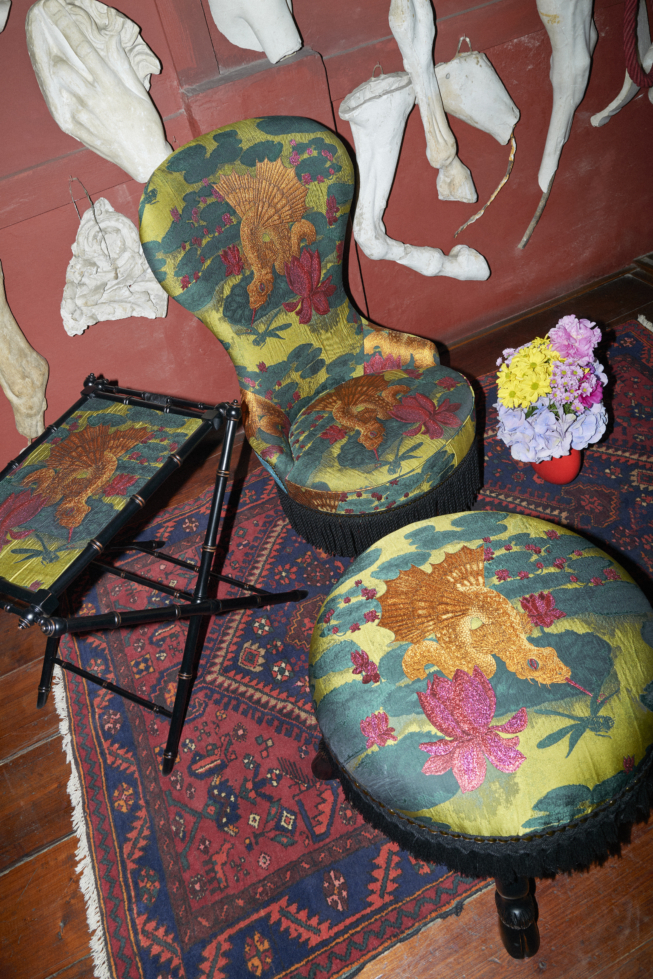 Underlying Gucci Décor is the powerful, romantic aesthetic of Alessandro Michele, expressed through a multitude of House motifs. Exuberant combinations of colours, patterns and words, with multiple references to Gucci's rich library of designs that often revolve around flora and fauna, create a vibrant impression. The collection is genuinely inventive and surprising, eschewing traditional notions of interior design in favour of an eclecticism that invites us to curate and customise freely.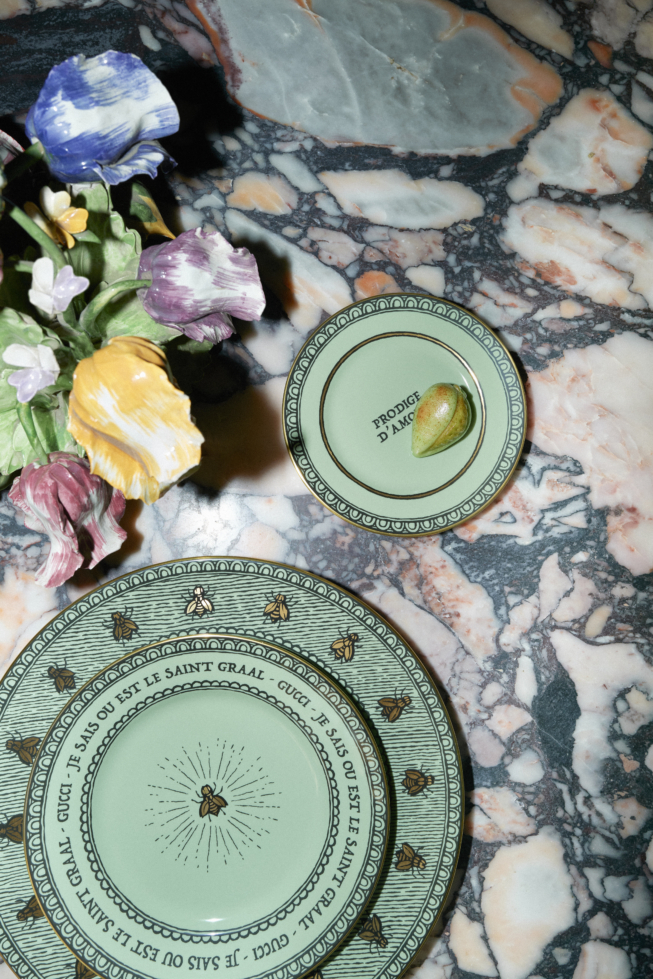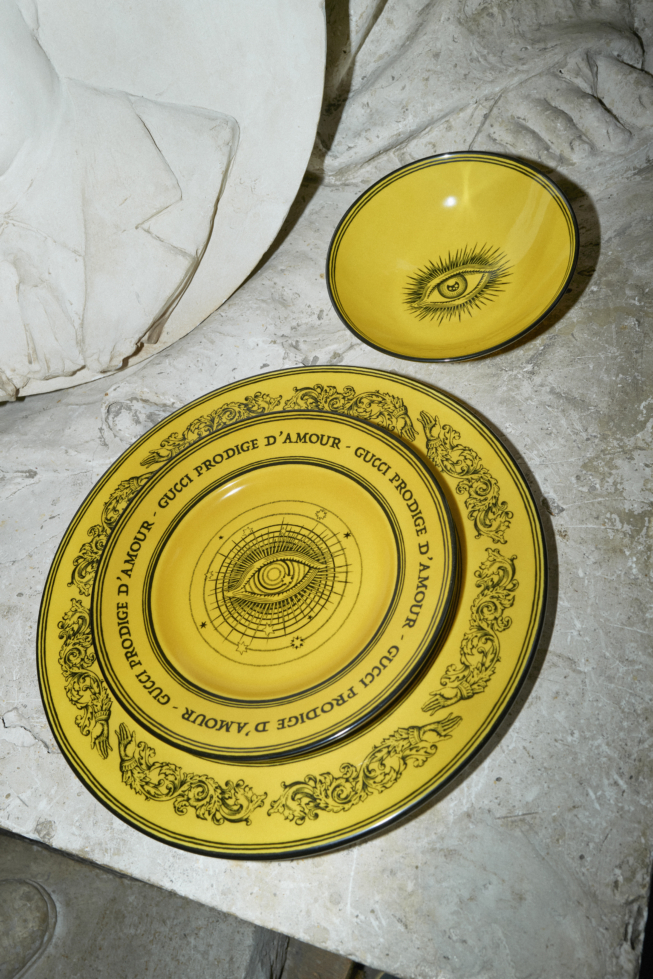 The collection is entirely made in Italy and is a true celebration of Italian art and the great tradition of the country's artisan makers.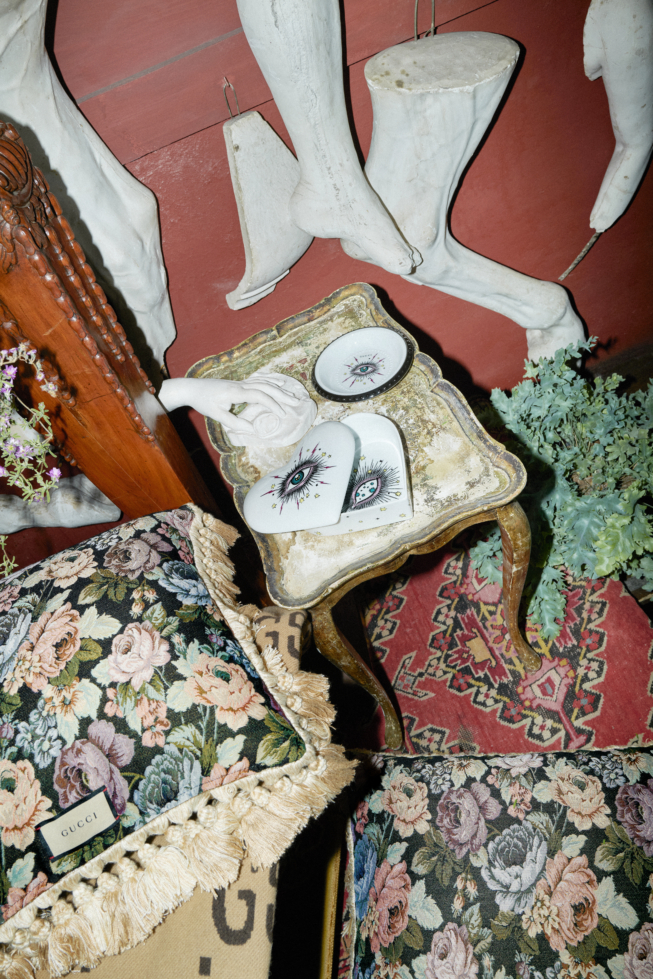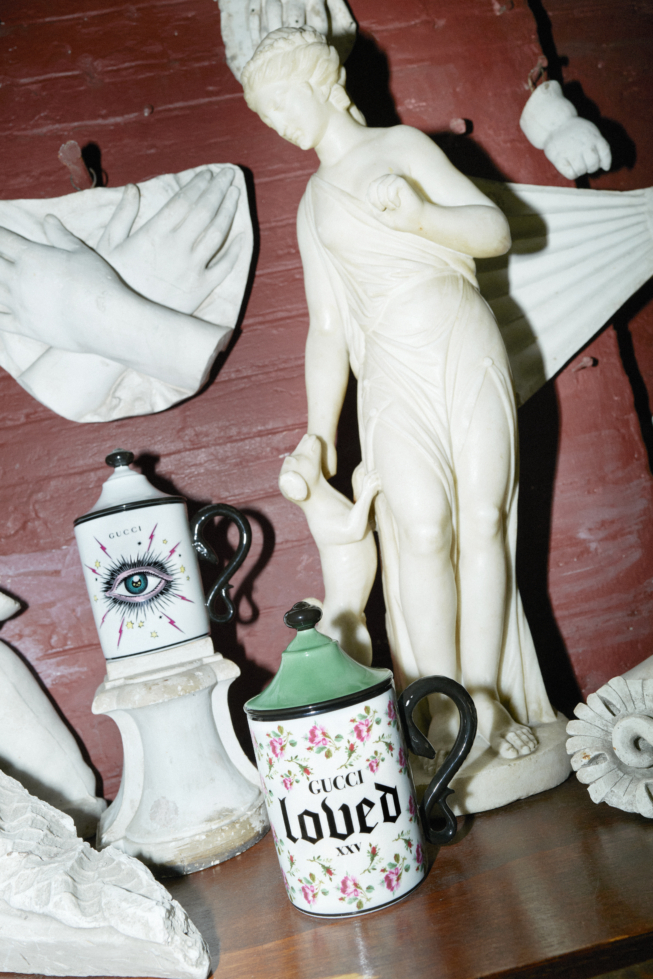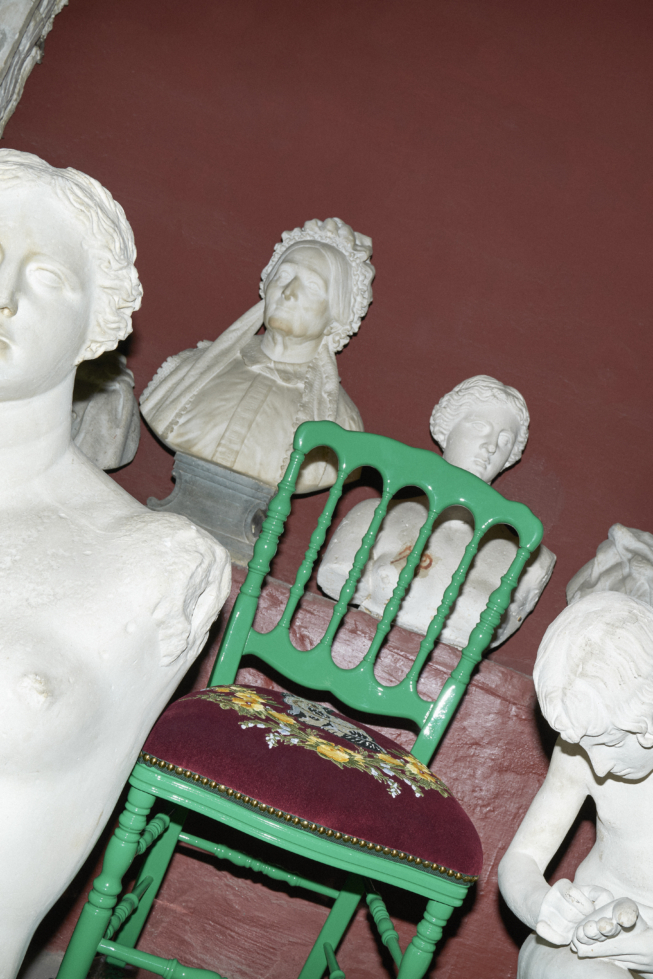 Among the many new concepts in the 2021 Gucci Décor Collection is decorative coloured tableware, created to enhance the social dining experience that lies at the heart of so many homes. The pieces in this new selection are made from high-quality porcelain by the famous Florentine firm of Ginori 1735. In many ways, these epitomise Gucci Décor's commitment to craftsmanship – the distinctive porcelain items often require hand-painting, and complex processes of firing that demand great expertise.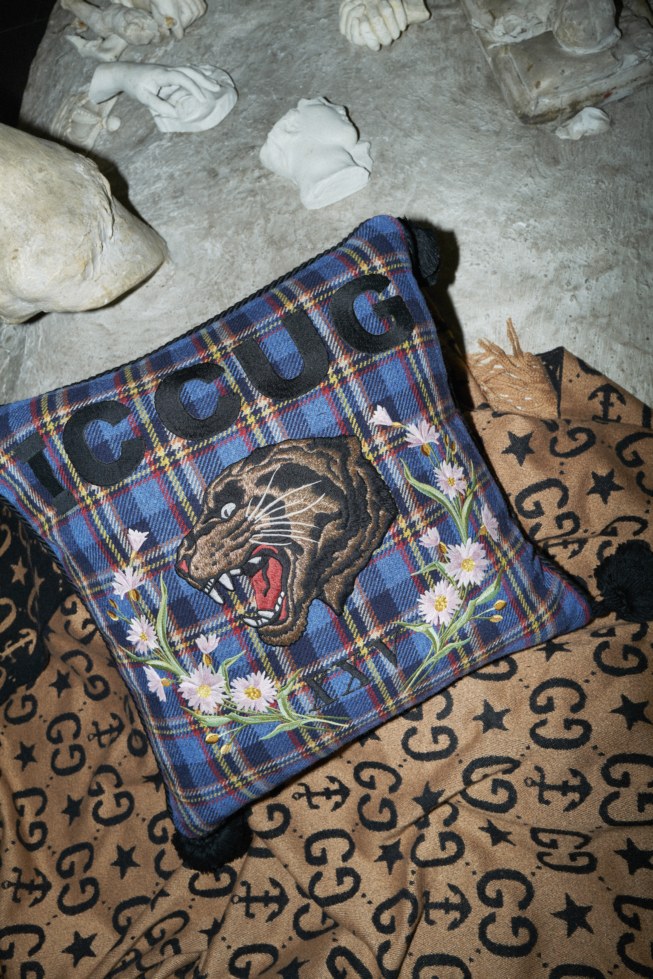 Each undergoes many manufacturing stages to achieve its final appearance. The new tableware features a fresh version of the House's famous Herbarium print in a warm yellow, decorating a wide range of pieces, including tea and coffee pots with matching cups, plates and bowls, and a cake tray, milk jug, sugar bowl and soup tureen.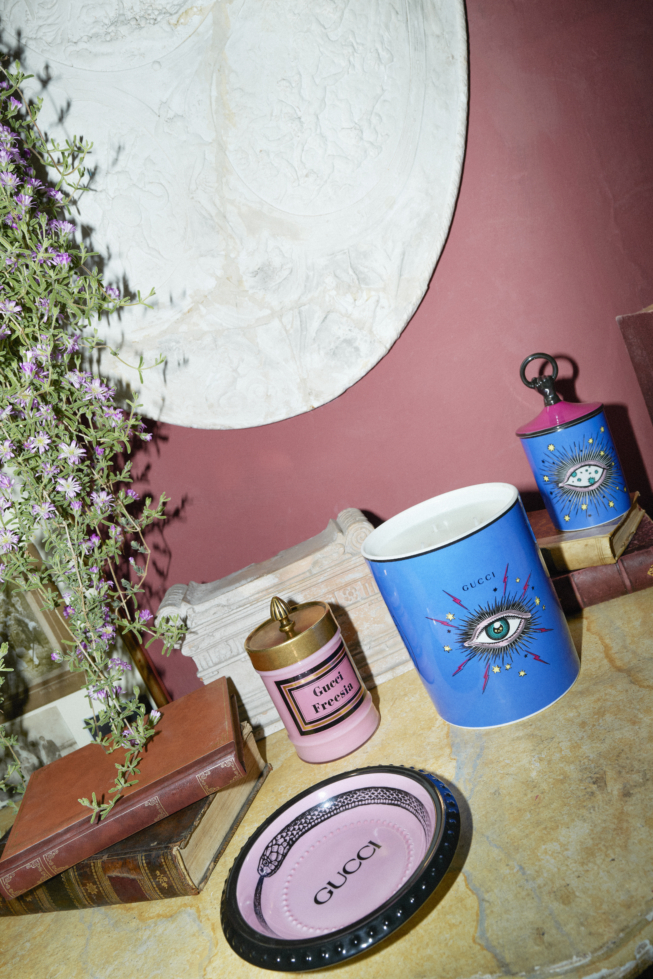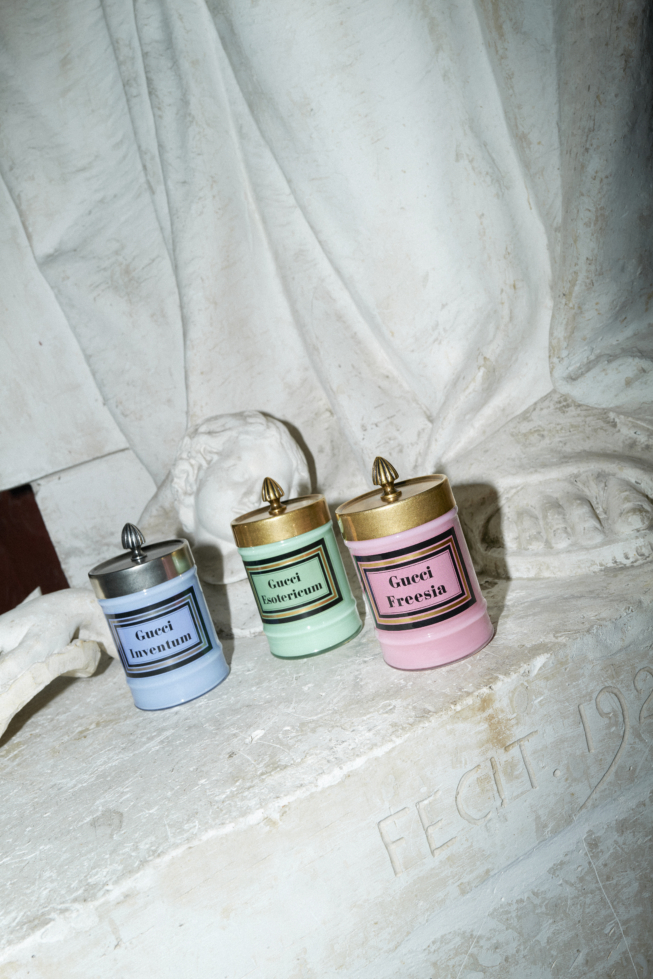 Other coloured tableware sees a large charger plate/cake plate, medium fruit/dessert plate and small plate or small bowl in two patterns: Odissey (in green) and Star Eye (in yellow). Airbrushed colour backgrounds, decal prints and hand-finishing achieve the end result, and there are additional gold details for the Odissey line.

New cutlery, to complement the plates and bowls, comprises an antiqued silver-plated fork and spoon featuring a lion head, reflecting a signature motif found in Gucci jewelry, as well as a knife decorated with the iconic Gucci bee and the prodige d'amour script. For the fork and the spoon, personalisation with initials on the back of the lion's head is available. Each fork, spoon and knife undergoes over 20 manufacturing stages, and the shapes are obtained by moulding, while the lion is made by casting and hand-finished by chiselling. This unusual and intriguing cutlery, which comes in sets of two, is presented in either a quilted satin soft case with black ribbon fastening, or a satin-lined black ecoleather box.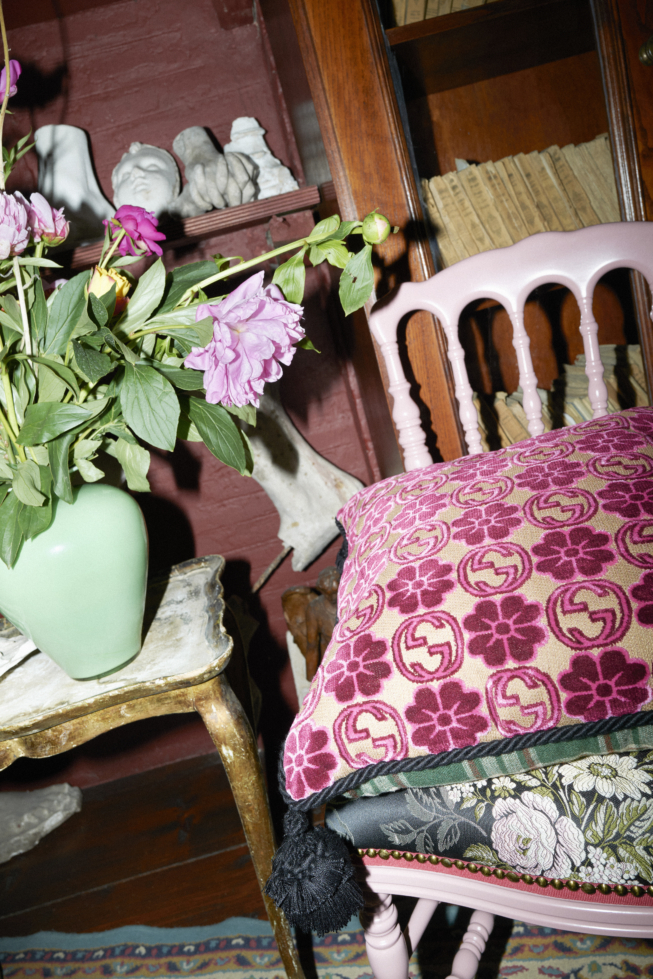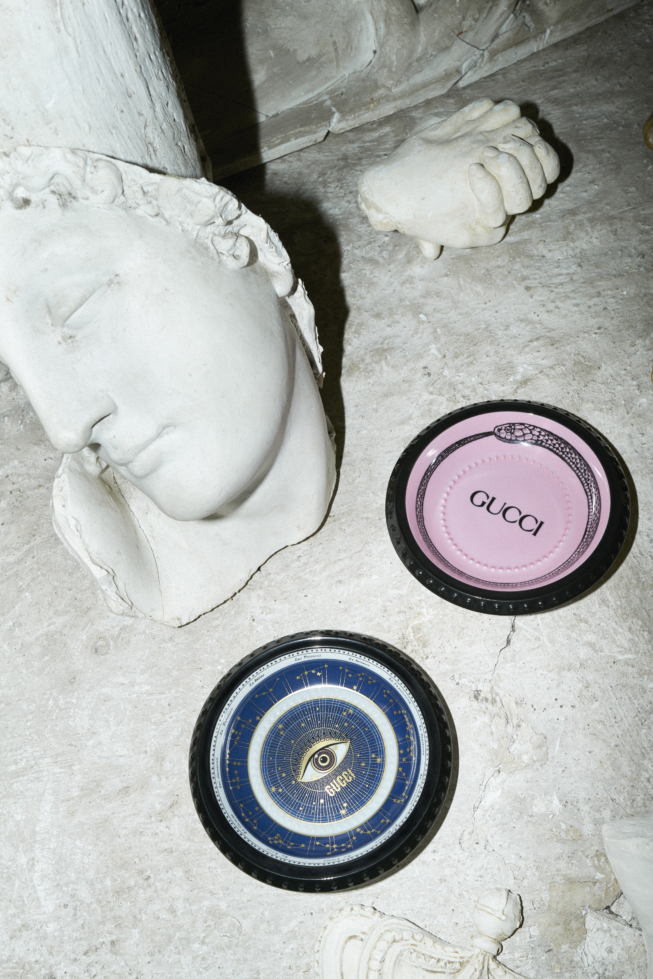 To add a rarefied decorative touch, rich with history, there is a group of three candles in coloured opaline glass. Reminiscent of the types of containers found in pharmacies in the late 19th and early 20th centuries, these are crafted employing artisanal mouth-blown glass production techniques developed over more than 500 years on the islands of Murano in the Venice lagoon. A metal cap with a cast knob adds a distinctive finishing touch. The scents are Esotericum: notes of bitter orange, jasmine and leather (the pastel green candle), Inventum: a rose blend (the lilac candle) and Freesia: violet, resin and African freesia (the old rose-coloured candle).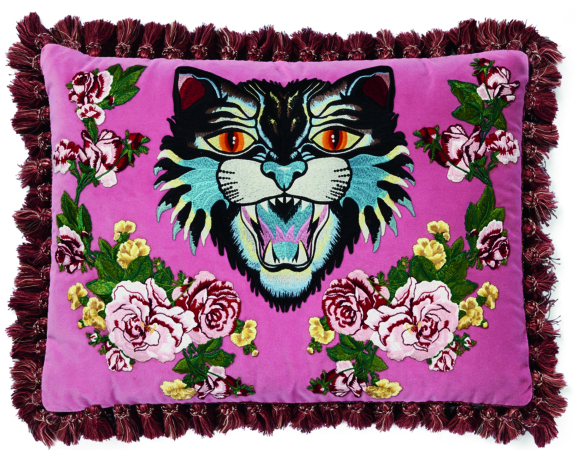 A home should of course feel comfortable and welcoming, a place to unwind. To help create a sense of repose and relaxation, Gucci Décor presents a range of blankets, quilts and cushions, all displaying the distinctive decorative aesthetic of the House – a feast for the eyes as well as a source of comfort and warmth. Stars feature on new blankets made from fine yarns – wool, cashmere and silk – along with a GG pattern and anchors.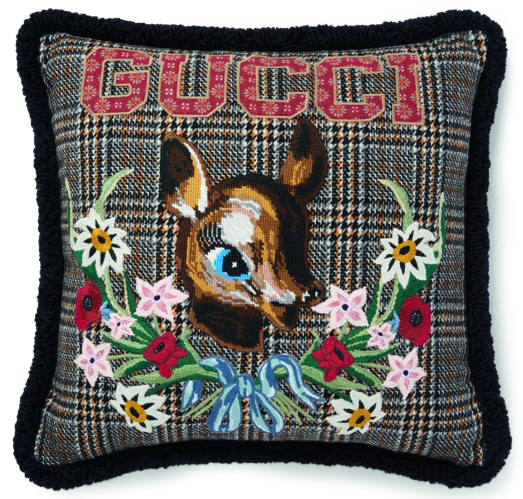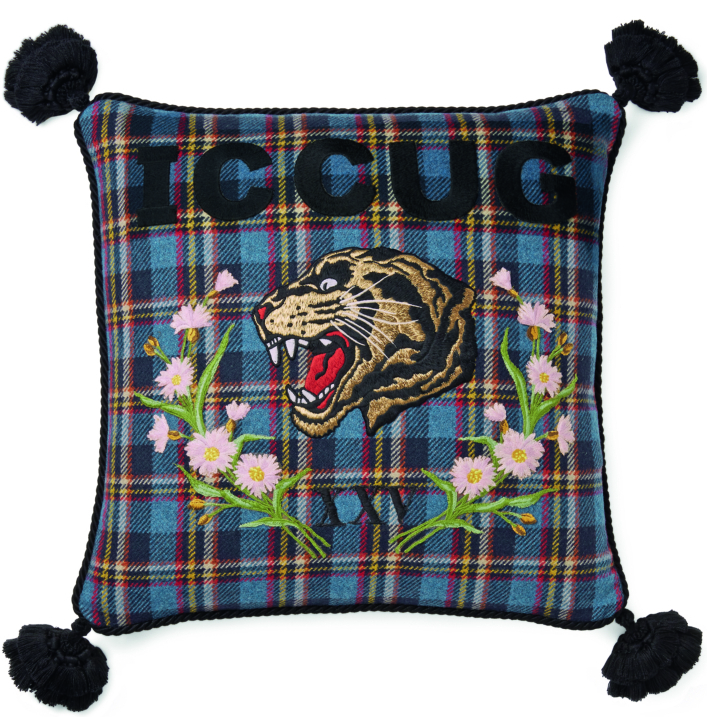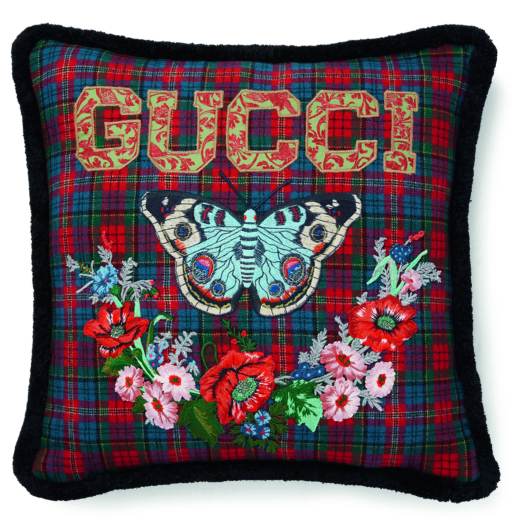 These have a fringed border and contrasting colours on front and back (black/ivory, brown/black and green/brown). There is also a new style of logoed blanket in a pure new wool bouclé, which brings out the three-dimensionality of the pattern. The 3D effect is produced by the combination of yarns of different thicknesses, and the piece has hand-knotted fringes. It is available in yellow and orange.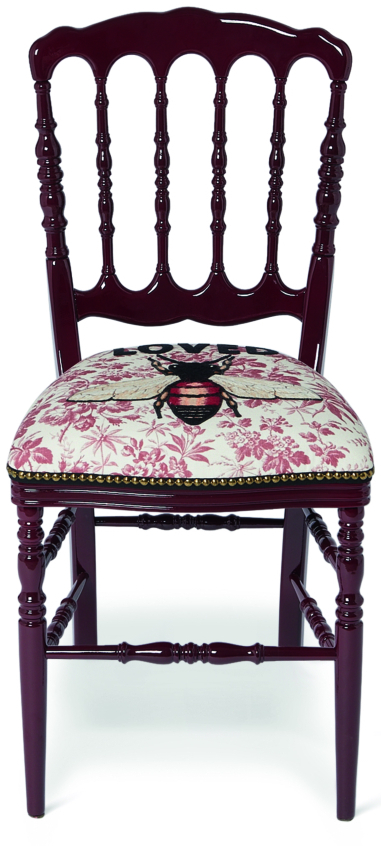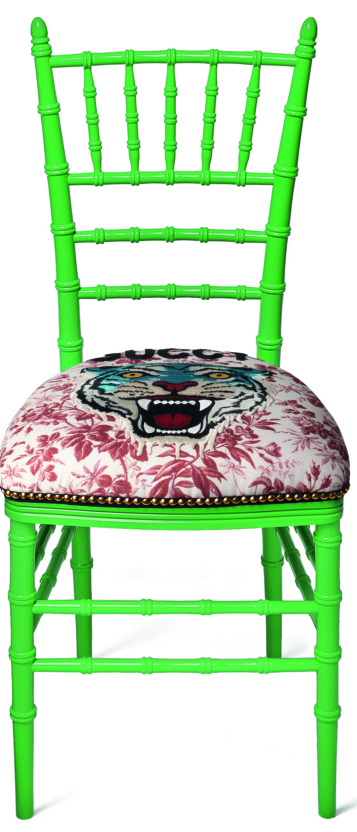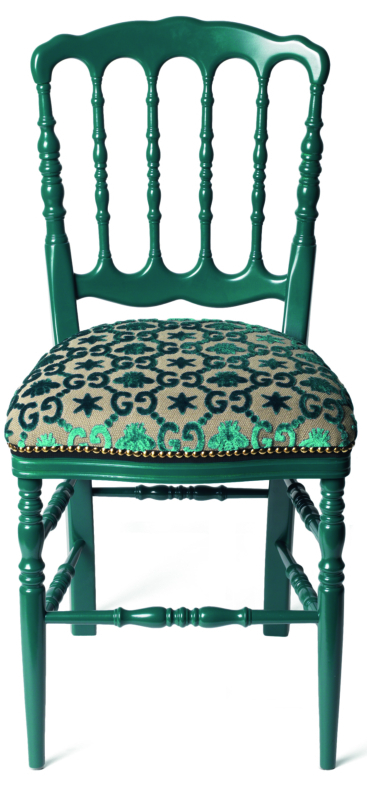 Other blankets are in a mohair blend and are patterned with the Gucci logo in a check design in black and white or pink and bordeaux and have fringed borders, or come in wool with a tartan on one side (in yellow or green) and GG stripe motif on the other (these are also fringed around the edges). Finally, a blue and red fringed tartan wool blanket has a red interlocking GG motif. A special addition to this section of the collection are two lightweight cotton and wool reversable quilts; each has two contrasting floral designs (front and back), and one is enhanced with fringing. These were inspired by Provençal quilts and bring the spirit of spring into the home.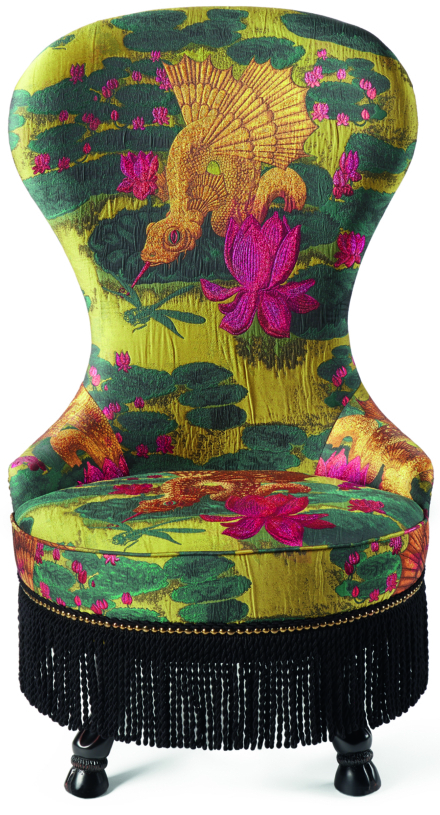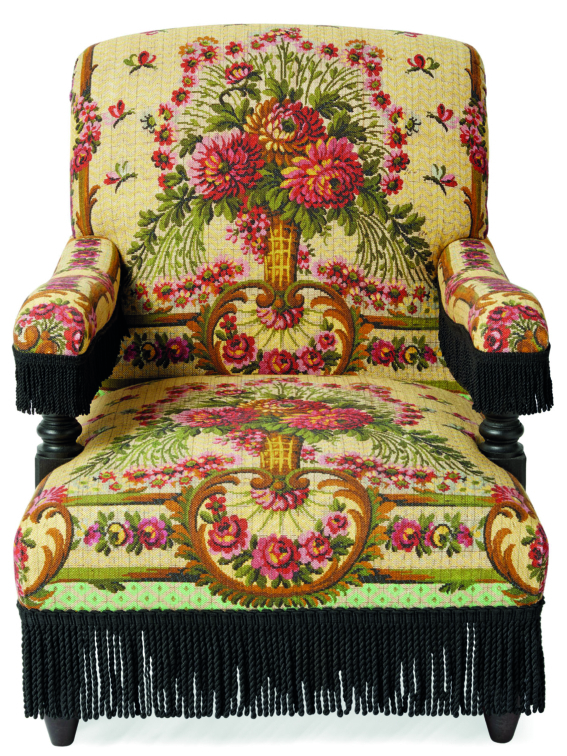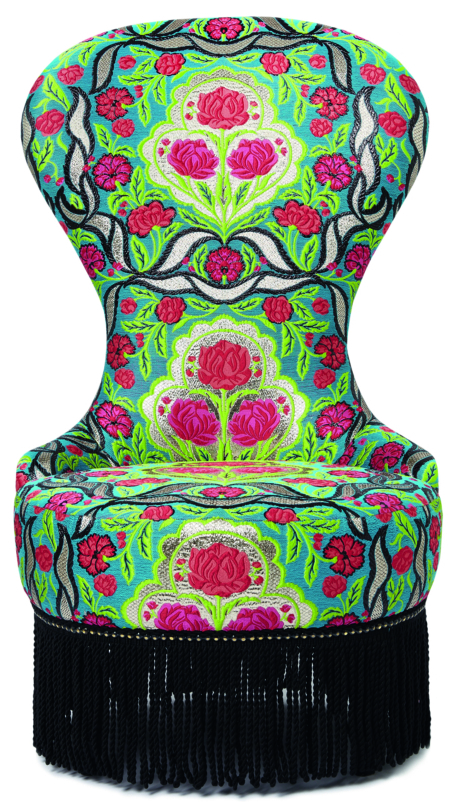 The blankets and quilts are complemented by a range of new cushions. A rectangular style has a jacquard velvet base displaying the GG Daisy pattern, a contrasting back in tartan wool, black tassels at the corners and black corded trim. There are two colour variations of this design in a square shape too. Another square model has a yellow and blue GG Daisy-patterned cotton front and a black moiré back, and this time, white tassels and cording.
There is also a selection of cushions with embroidered patches featuring Gucci motifs like tigers and a cat.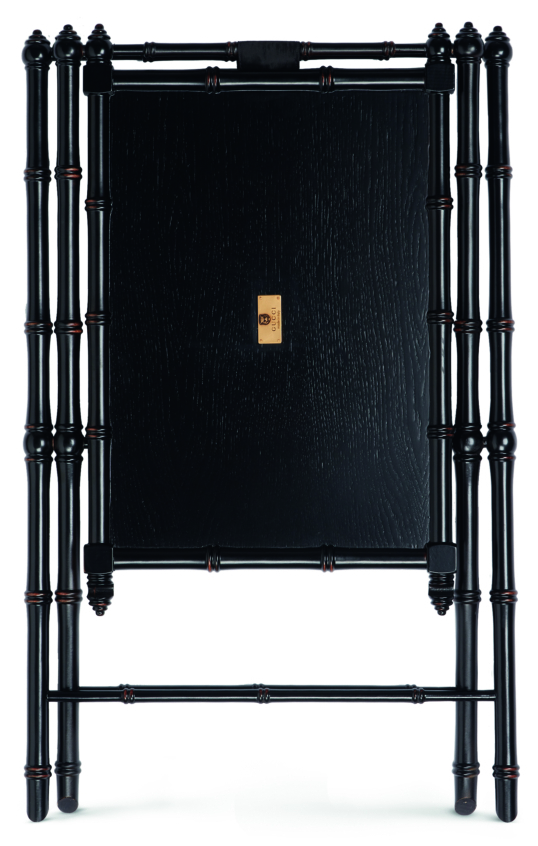 The patches, which take around five hours to be applied on the cushion, are on wool tartan backgrounds, while the backs of the cushions are in pastel-coloured moiré; trim is either black tassels and cord, or all-round black knotted tassels.
Finally, one square and one rectangular cushion have a GG squared motif on a chequerboard base on the front in maroon or green, in cotton, and a floral fabric on the back with a natural-coloured knotted tassel trim around the edges.
Furniture, of course, provides rooms with their points of interest, and Gucci's chairs, tables and footstools are all full of character. The new circular footstools are made-to-order and are available in a large and small size.
These are upholstered in two different fabrics: the aliens jacquard and the iconic jacquard of GG bees and stars motifs. The wooden legs are in black-painted antiqued ebony with a new animal design and there is a decoration of black knotted and braided fringes edged with a row of brass studs. The small armchair gets new upholstery too – once more the aliens jacquard motif. It is made with a beechwood frame and features black braided fringes, again edged with a row of brass studs. While the front and seat are in the jacquard, there is a rich blue quilted back in a silk blend, also edged with brass studs.
Wooden folding tables have tray bases covered in linen, wool-blend and jacquard fabric: Toile, a pink pastoral design, the aliens jacquard and a graphic Gucci chevron pattern. The solid wood frames come in two variations: in light green smooth wood with a raised stars motif, and in black ebony-style wood with a faux bamboo look.
Another folding wooden item is a new magazine rack covered in wool-blend and jacquard fabrics: an octopus and jellyfish motif, and the graphic Gucci chevron pattern. The frame is in solid beechwood in either pink or black, with matching pink or black moiré sling straps.
Finally, to enable the dressing of a room in a striking and memorable way, Gucci Décor offers new wallpapers in non-woven fabrics with floral and geometric themes taken from the extensive collection of House prints. These are created using a digital printing process and require much time for production due to the large number of colours involved.
The Gucci Décor Collection is regularly reimagined, however there is a consistency that always runs through it. The use of House motifs, the colourful imagery and patterns and the surprising and eclectic combinations of design elements ensure that everything feels part of an ever-growing family. Customers can therefore add to their previous Gucci Décor purchases in the knowledge that all will work seamlessly together.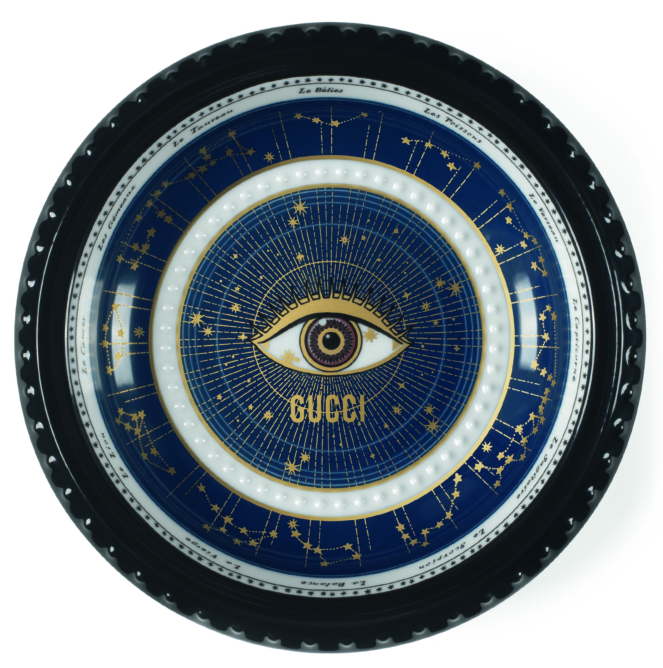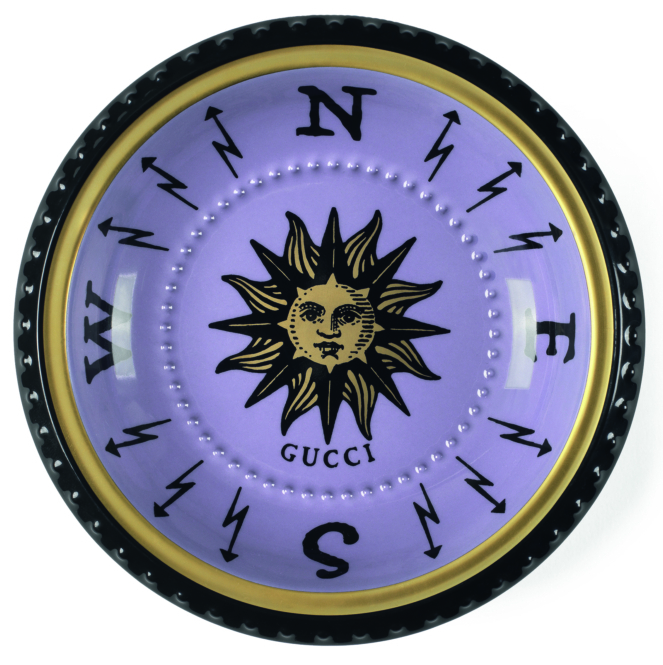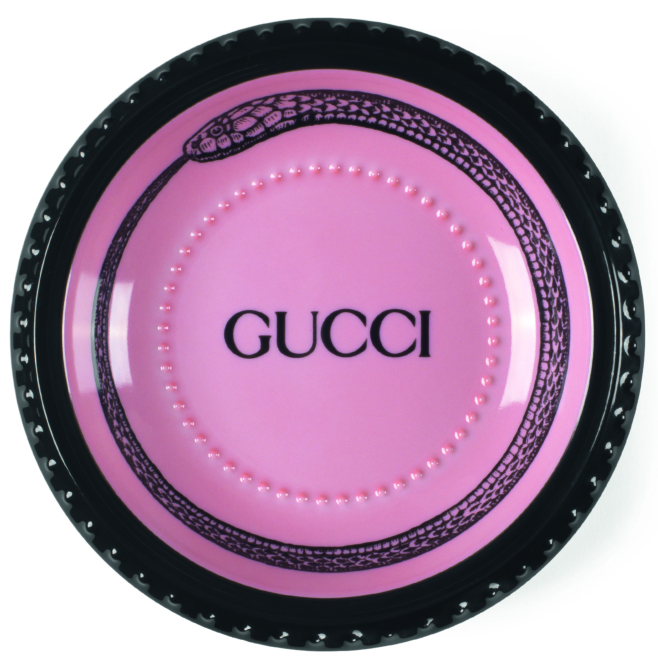 Spotting a light on the collection, a dedicated campaign was conceived by Creative Director Alessandro Michele. Shot within the walls of the Museo Atelier Canova Tadolini in Rome, the images portray the pieces at home in an evocative, historic place, surrounded by the magnificent collection of sculptures by Antonio Canova, Adamo Tadolini and the following generations of artists which inhabited the space. In this intimate atelier, the Gucci Décor reveals all its symbolic significance, opening dialogues between the past and the present, shaping a future where heritage and self-expression coexist.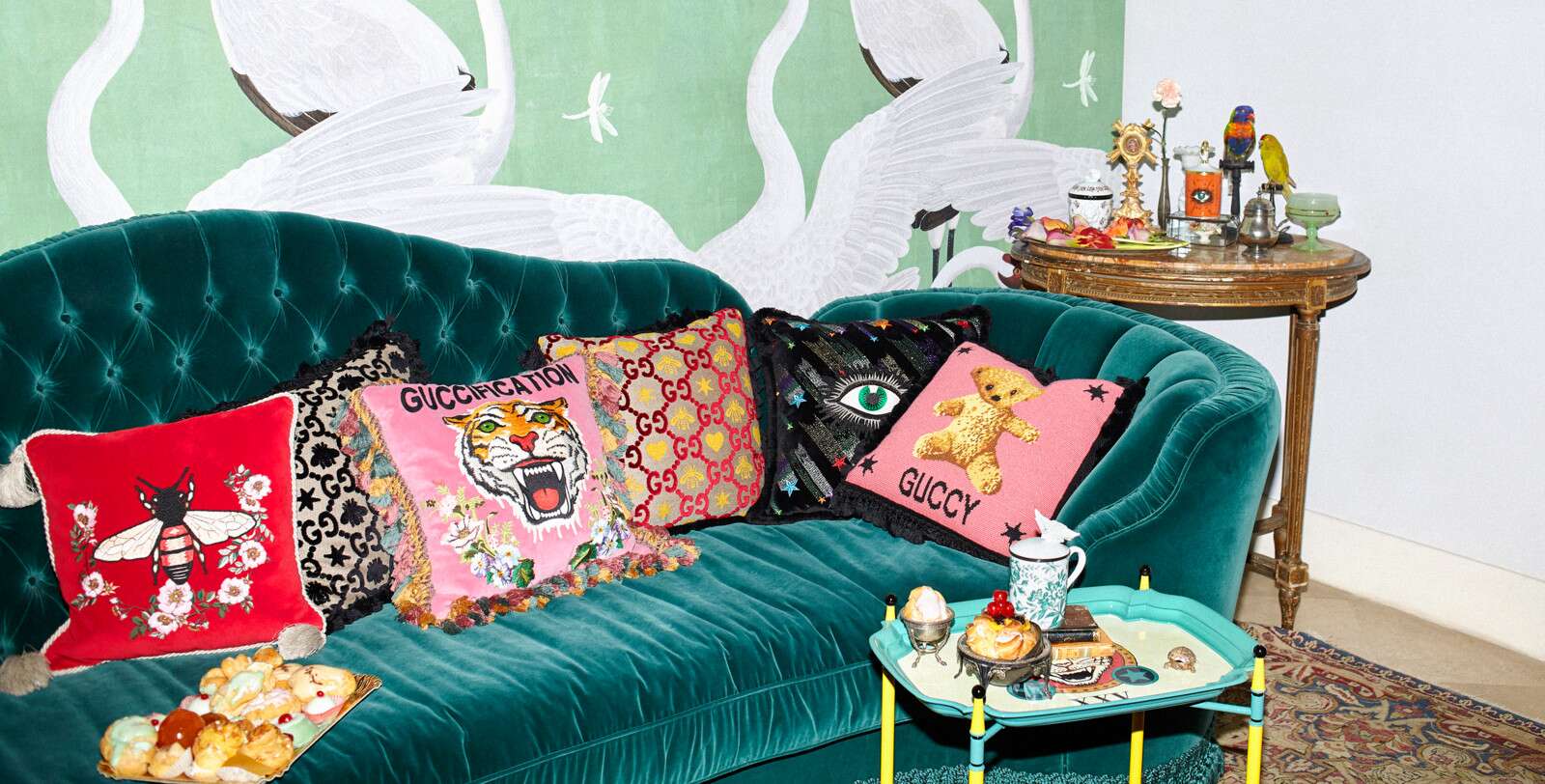 Gucci Décor is available in Gucci flagship stores and Gucci boutiques, online at gucci.com and in select speciality stores.