JOURNEY TO THE SELF
COME AND RELAX AT ONE OF THE BEST HOTEL-SPAS IN MARRAKESH
Follow the stairs and let the lanterns' chiaroscuro effect guide the way to La Mamounia's Spa. The Spa at La Mamounia is a veritable sanctuary dedicated to beauty and well-being. This vast facility covers 2,500 m².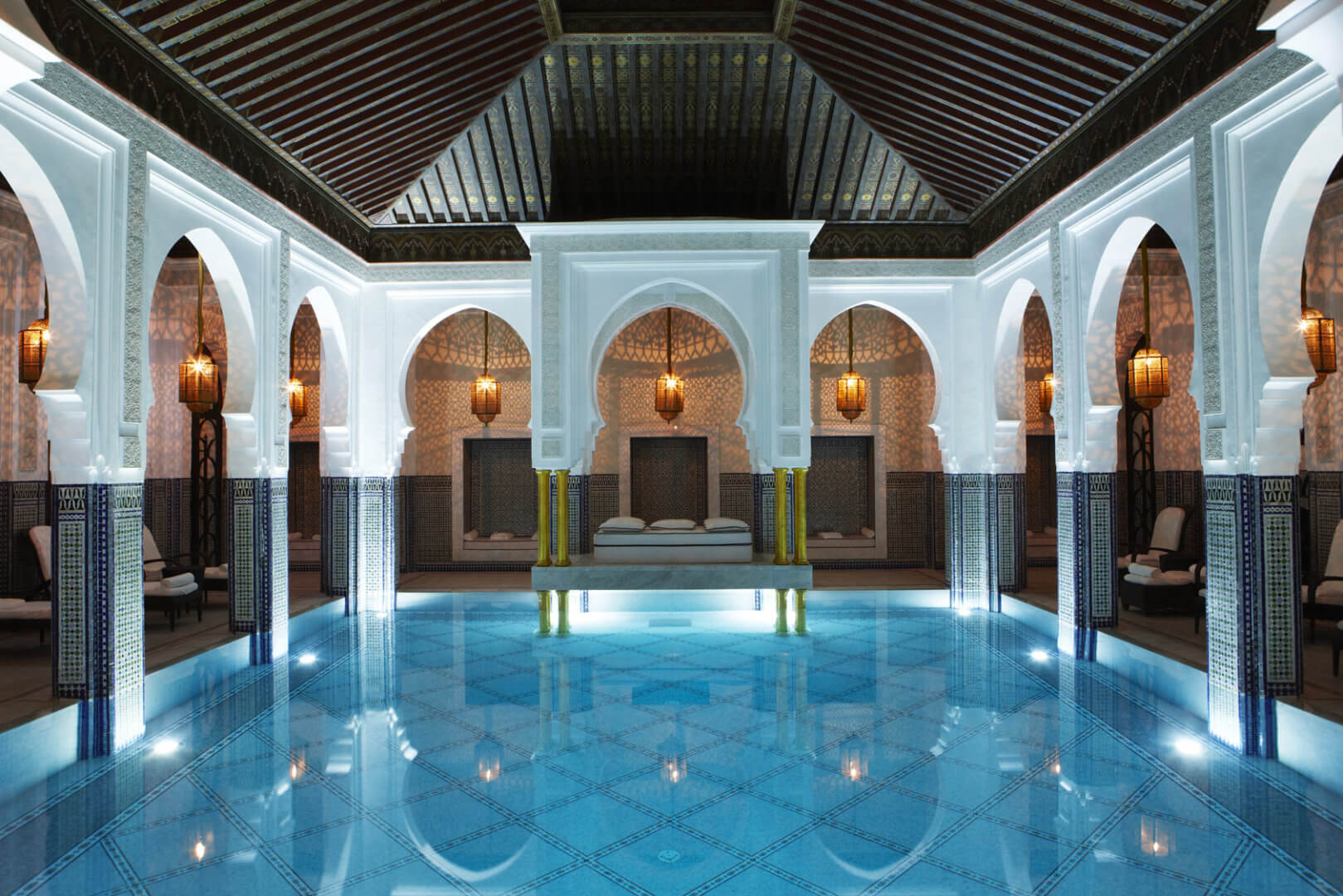 Smooth marble, rounded curves and bands of tadelakt together form a harmonious ensemble, sheltered from outside light, creating a soothing, subdued atmosphere where time seems to stand still the moment you step inside.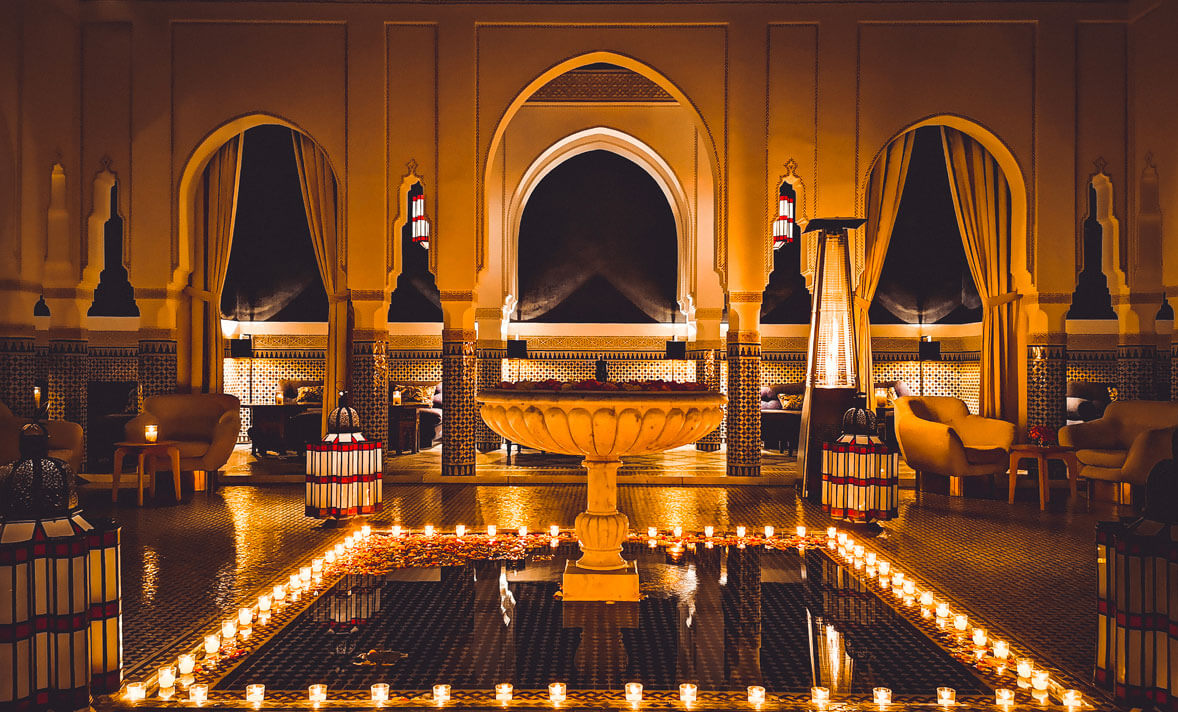 As you leave the quiet tranquillity of the hammam, try out the benefits of our local ingredients. Black soap, Ghassoul clay, Argan oil and rose water entertain a certain idea of beauty, both generous and voluptuous, they touch on the most intimate aspects of Moroccan tradition.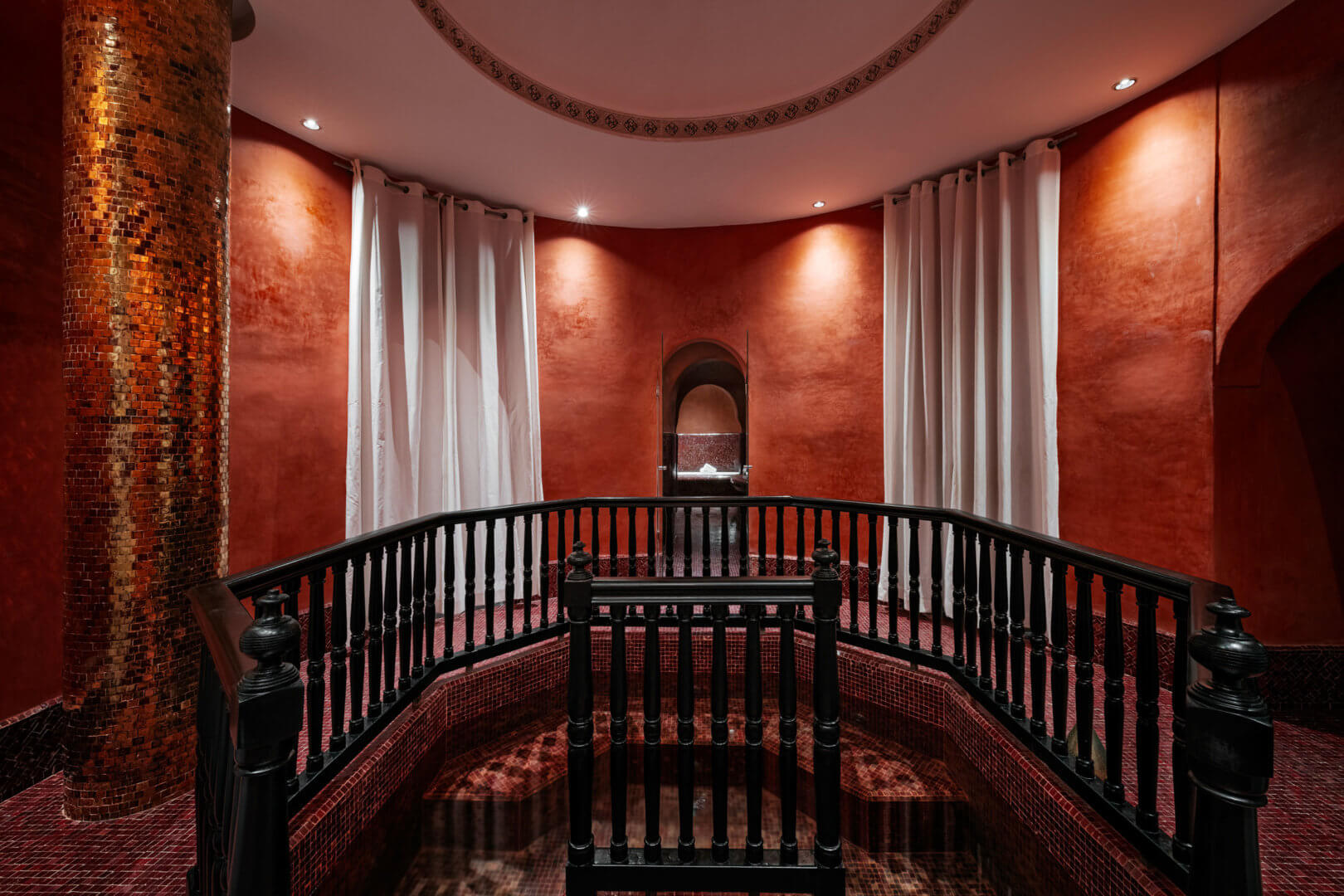 In the expert hands of our spa therapists, massages, body care and facial treatments take on an almost holistic dimension that awakens a new serenity. Hidden from view and sheltered from the sun, the 28°C heated indoor swimming pool is a must to unwind the body and let the mind wander.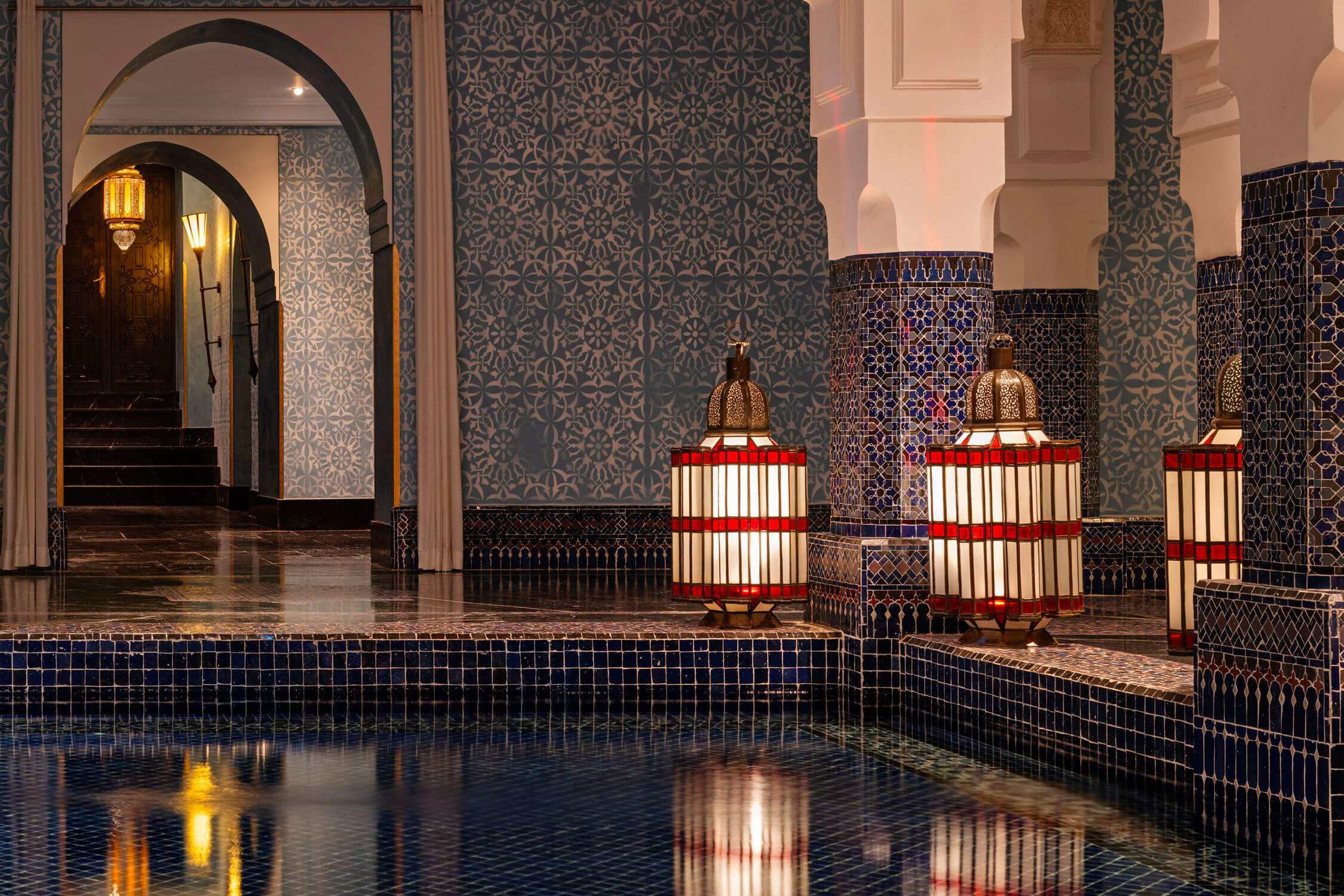 The jacuzzi has its own dedicated pavilion where sofas and cushions line the walls under mashrabiya openings to draw out this moment of relaxation.

La Mamounia Hammam in Marrakesh – treat yourself to a memorable experience
Ever since ancient times, heat has been used to ease tension. The hammam is central to Moroccan culture, it forms part of a purifying and soothing beauty ritual.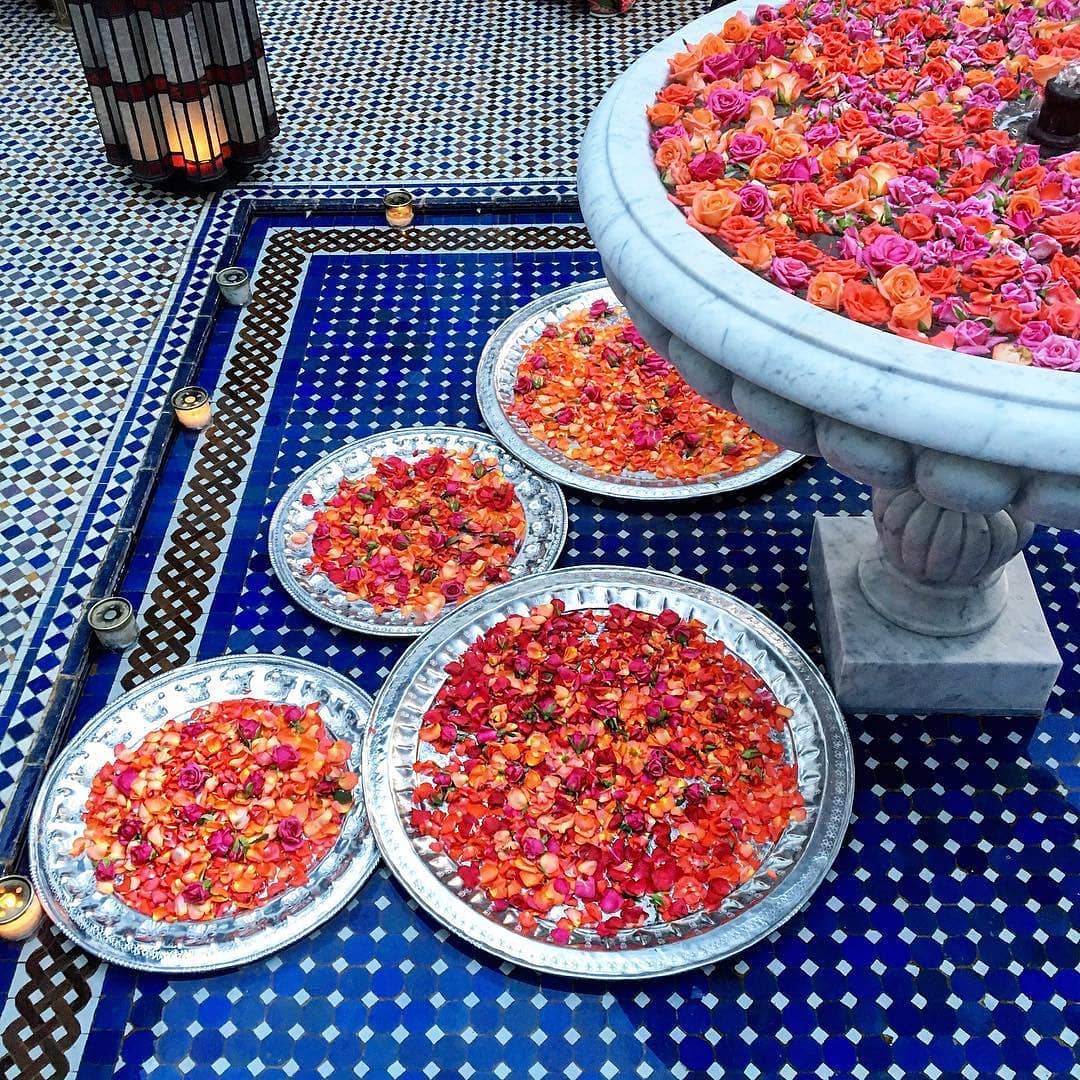 An interplay of light and shadow gradually reveals the hammams of La Mamounia little by little. Through the steam, one can make out exquisite mosaic tiles and marble benches where time no longer has a hold.
At any hour of the day, let yourself succumb to this sumptuous interlude and try some of the special treatments to which Moroccan women have held the secret for thousands of years.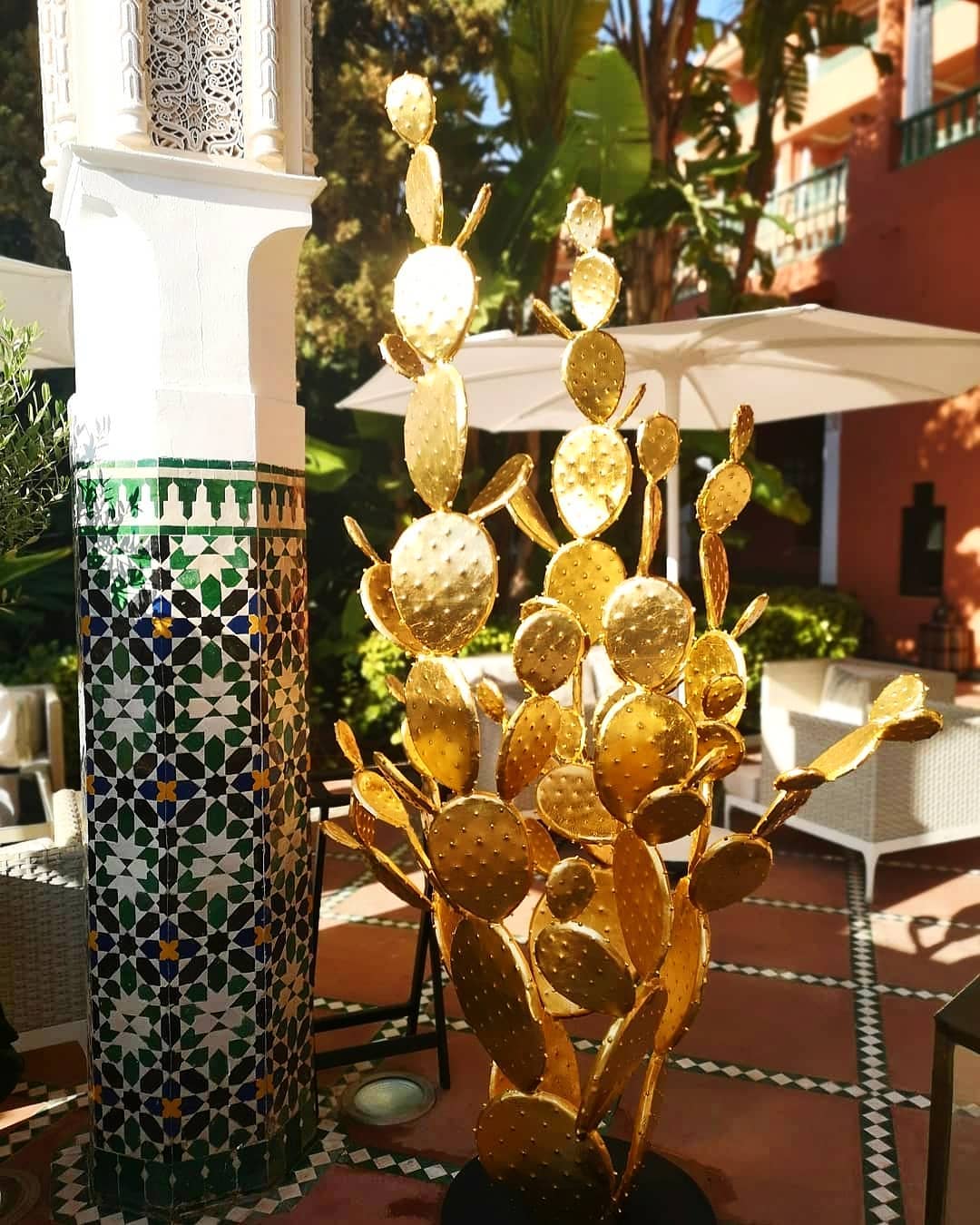 "Royal" "La Mamounia" and "Evasion"
our signature Hammam treatments combine the expert techniques of our therapists with the best local and natural ingredients. Black soap, Ghassoul body wrap, exfoliation with a Kessa glove… silky and detoxified, the skin is reborn, whereas the essential oil massages immerse you in a state of infinite plenitude – body and mind are united once more.
LE HAMMAMS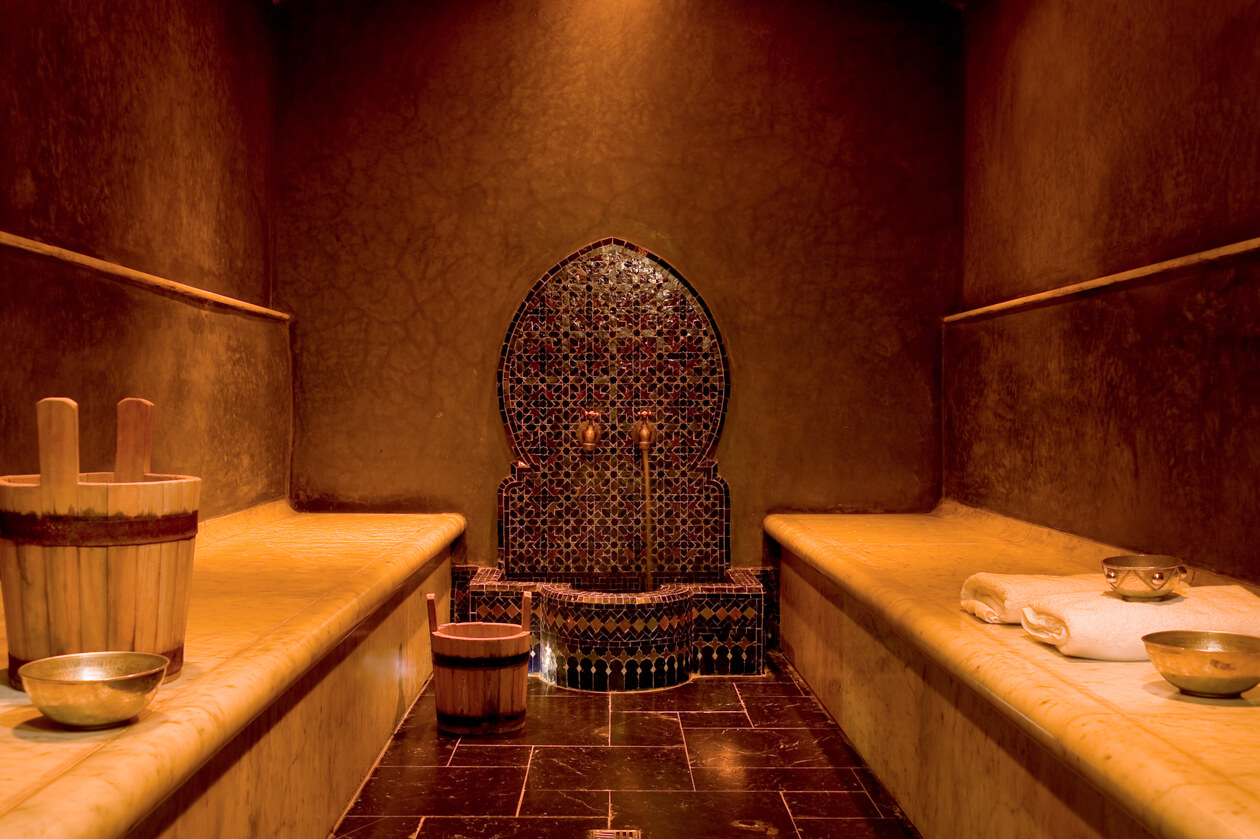 HAMMAM "ROYAL"
It prepares the skin for exfoliation while releasing delicate notes of eucalyptus and suave neroli. With the help of a kessa glove, a deep cleansing of the skin is carried out, thus ridding the epidermis of its impurities in order to promote cell renewal and stimulate blood circulation. In addition, a body mask called ghassoul coats your body.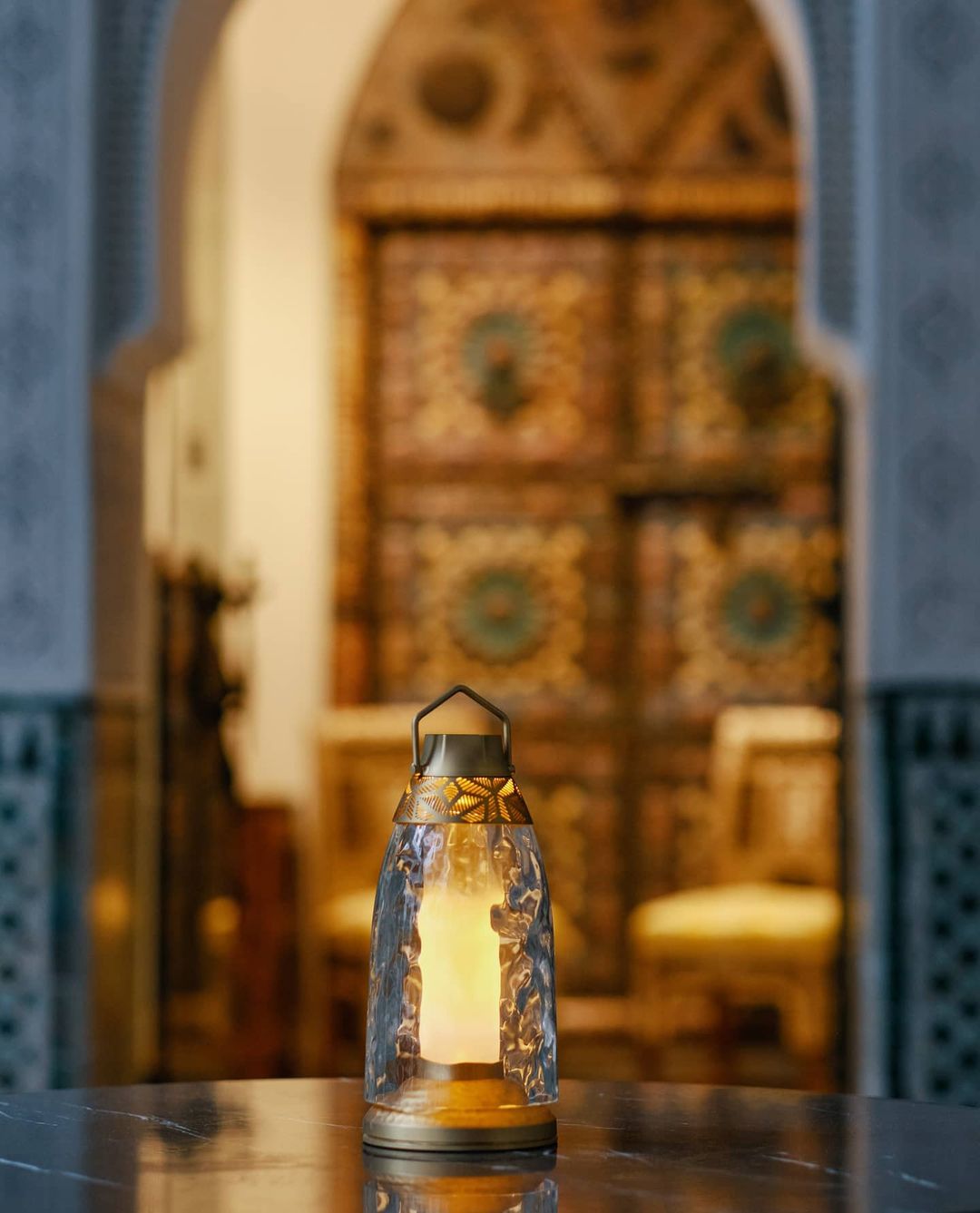 A native of the valleys of the Middle Atlas, this powder, full of neroli and eucalyptus essences, sanitizes the epidermis, regenerates your skin with mineral salts and oligo-elements, bringing an intense feeling of purity. To close this ritual, a La Mamounia massage transports you with finesse, embellishes your skin and provides an intense feeling of relaxation.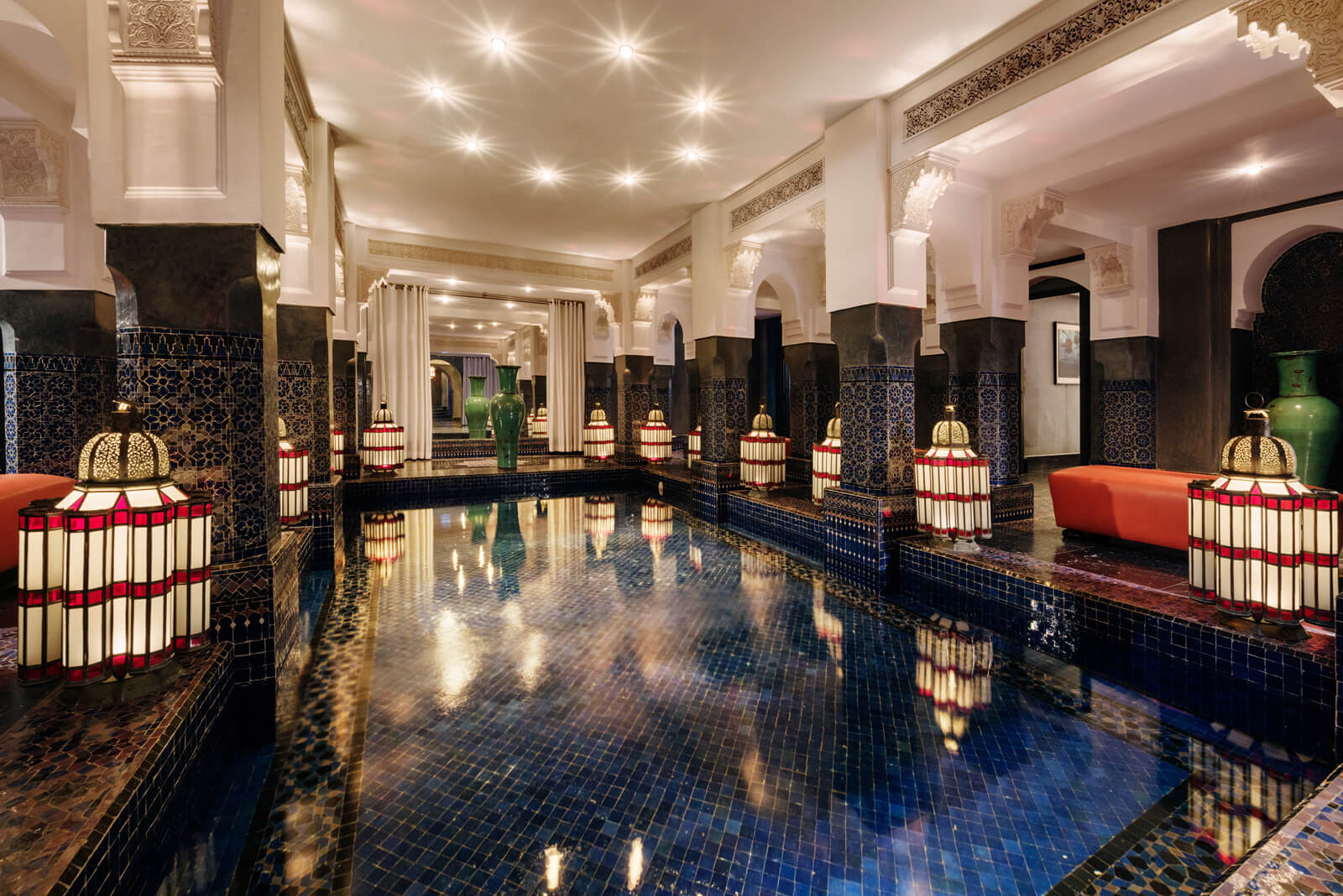 HAMMAM "LA MAMOUNIA"
A ghassoul body wrap, a naturally purifying and stimulating powder, is applied all over the body and provides an intense feeling of lightness. By closing your eyes you will prolong this experience and enjoy the note of eucalyptus along its entire length. A traditional ancestral ritual, borrowing from gentleness and benevolence.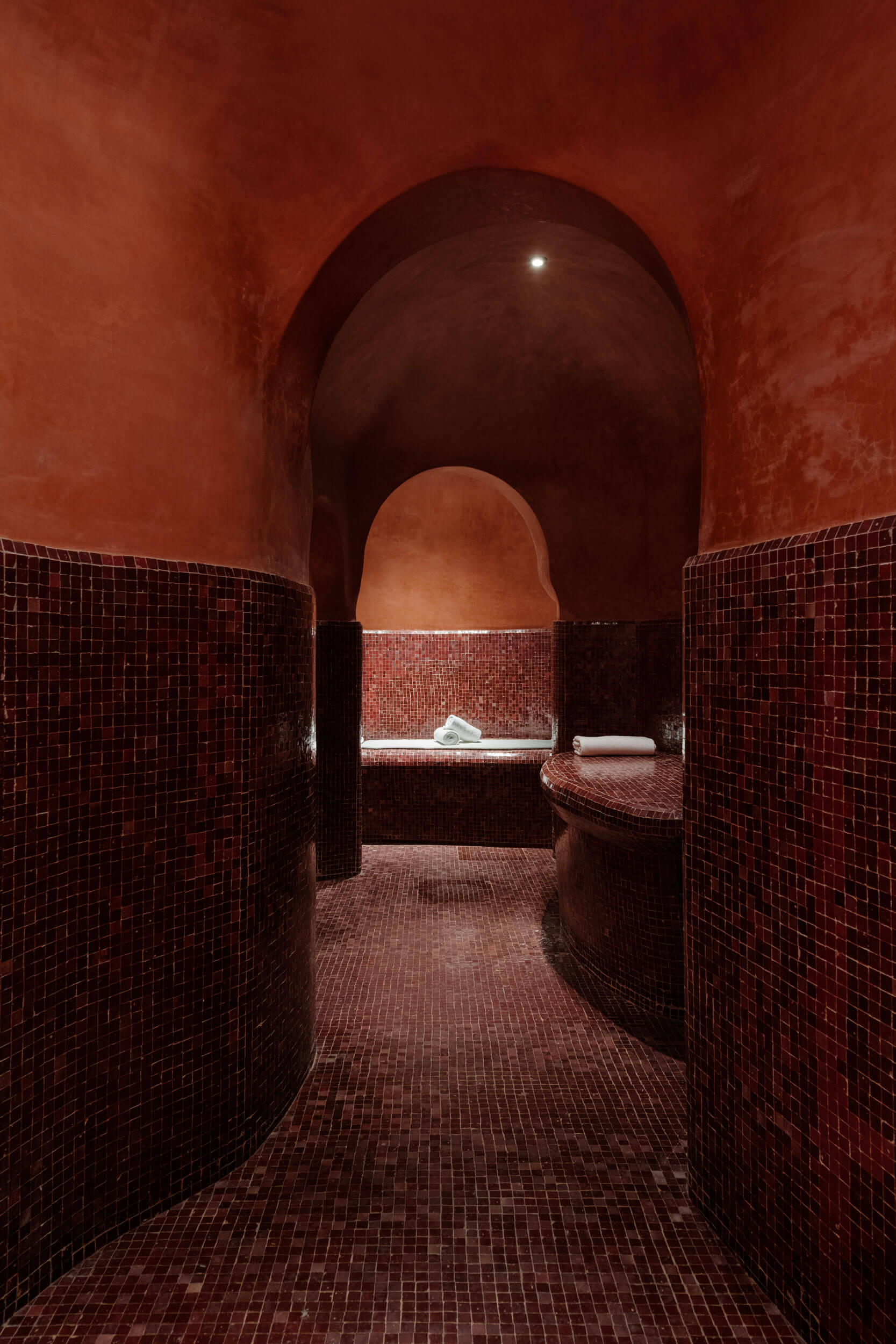 HAMMAM "EVASION" MAROCMAROC
The Kessa glove paired with the exfoliating amber honey paste for an ultra-purifying scrub. Followed by a delicate soaping with an orange blossom shower milk. A journey into the heart of traditional Moroccan gestures.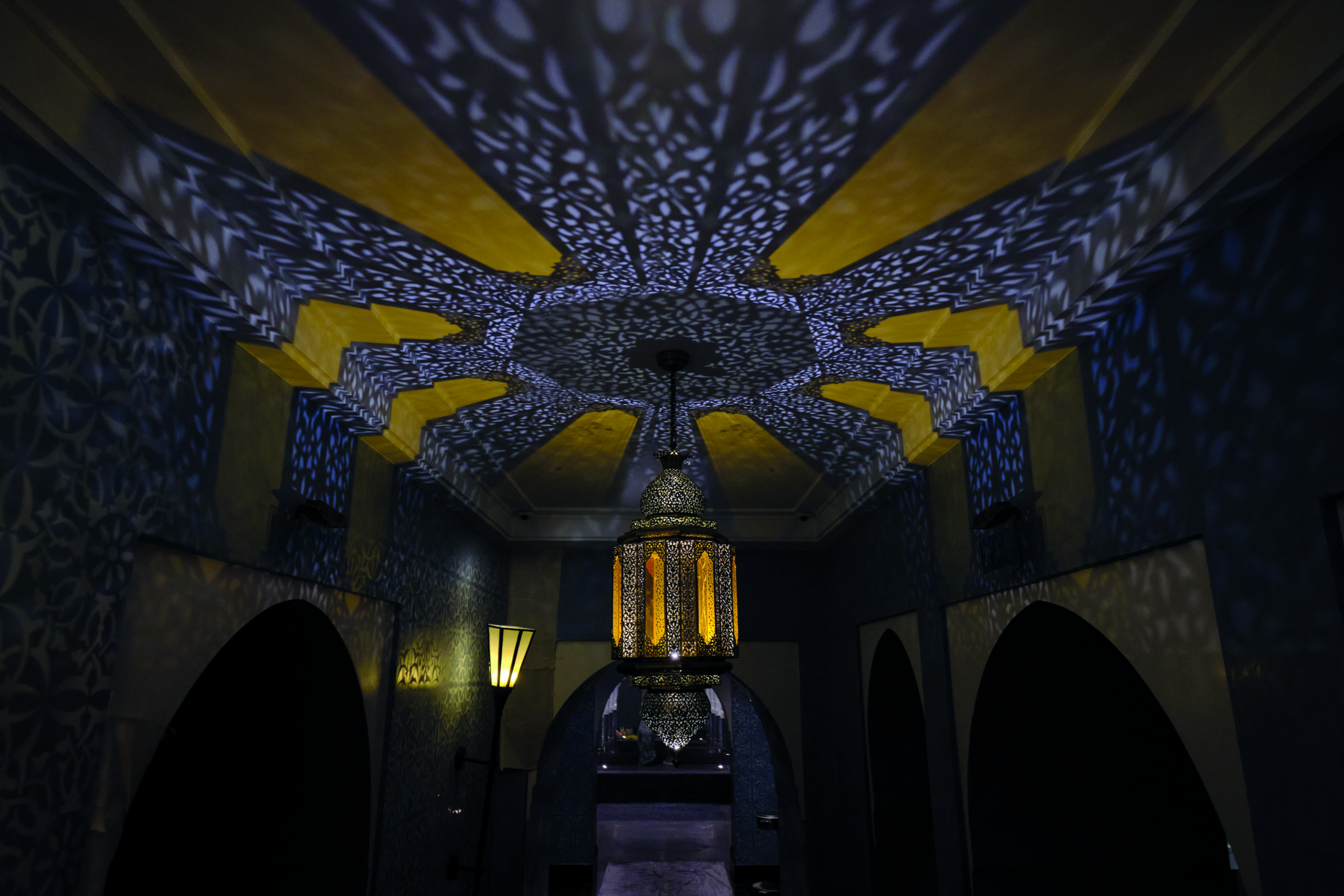 "A relaxing moment in the heart of a legendary venue"