Owning Legacy
Audemars Piguet is the oldest fine watchmaking manufacturer still in the hands of its founding families. Devoted to the preservation and transmission of its passion, savoir-faire and avant-garde spirit, Audemars Piguet continues to infuse its timepieces with enduring values of artistic excellence and technical mastery.
Taking ownership of its roots, Audemars Piguet also affirms its creative vision through artistic reinterpretations, such as infrared shots, of the natural landscape of the Vallée de Joux, where it all began in 1875.
Daring to Follow Firm Convictions
Going against the flow of industrialisation in 1875, Jules Louis Audemars and Edward Auguste Piguet turned their backs on the lure of mass markets, daring to craft unique complicated watches. Since then, Audemars Piguet has charted its own course.
A century later, Audemars Piguet continued to create bold complicated wristwatches in defiance of the quartz crisis, venturing to develop the world's thinnest selfwinding perpetual calendar in 1978 and paving the way for the revival of classical mechanical complications.
Unconventional Design
1917. The First Octagon
The first major innovation in design and form at Audemars Piguet begins with the birth of the wristwatch in the late 19th century. By the 1910s, during the Art Nouveau period, watchmakers at Audemars Piguet were liberated from the classical designs of the 19th century and began a path towards highly creative, geometric designs that have continued to the present day. The octagon has been found in architecture design since antiquity as well as in decorative arts and jewellery for centuries. This diamond-set bracelet watch from 1917 is the earliest confirmed and documented octagonal-shaped wristwatch made by Audemars Piguet.
1929. Angular Geometries
The greatest acceleration of design and form at Audemars Piguet began in the 1920s, with the Art Deco era. Art Deco aesthetics are defined by their strong & angular geometric shapes and bold lines. Audemars Piguet wristwatches in the 1920s took on powerful cushion and rectangular shapes in parallel with broader Art Deco trends. These new shapes also required new means to attach the strap or bracelet to the body of the watch, leading case makers to craft creative lugs to secure the watch on the wrist. This unique 18-carat white gold jumping hour wristwatch from 1929 is an early example of Audemars Piguet combining geometric forms within the same case: while the dominant form is rectangular, the sides of the case are dramatically flared and
tiered, becoming the actual lugs of the watch.
1936. Creative Dial
The 1930s and 1940s witnessed great creativity in regards to dial design.
Cushion-shaped and rectangular wristwatches continued to be produced, yet round watches began to make their return. Produced for the Italian retailer, Astrua, and delivered in 1936, this unique chronograph wristwatch is a masterpiece of unconventional design. At 37.75 mm, it was massive for the era and ahead of its time. The oversized case is accentuated by the enlarged bezel with black enamel Roman numerals. The circular motif is the central design element, repeated in the case
shape, the bezel, the intricate dial and subsidiary dials. To maintain the purity of the circular geometric design aesthetic, the watch features no traditional lugs – instead, they are "hidden" as part of the case design.
1945. Contemporary Sobriety
During the post World War II boom years of the late 1940s – 1960s, Audemars Piguet entered a "Golden Age" of creative and technical watch design.
Just as the War came to an end in 1945, Audemars Piguet sold this unique platinum minute repeater wristwatch with a contemporary design language consistent throughout. The effect is created by a few key elements that compliment one another. The bezel is incredibly thin, almost becoming invisible. The subtlety of the bezel was created to showcase the stunning silvered dial with applied alternating Arabic numerals and hour-markers that are precisely set at specific angles. The distinct lugs are proportionally large for the case and designed with strong geometric facets, creating a complex polygonal design. This specific case form housed other mechanisms during the 1940s, yet this was the only minute repeater produced in the style.
1961. Juxtaposed Geometries
Until 1951, all watches at Audemars Piguet had been made as unique creations.
However, even with the introduction of "models" at this time, experimentation in design and form continued to flourish. Everything that had been discovered during the first half of the century was built upon with even greater creative liberty and expression during the 1950s and 1960s, much like the art, music and architecture of the era. Geometric shapes in wristwatch design knew no boundary during this period. Sold in 1961, this model juxtaposes the rectangle, the circle and the square with overt intentionality. The 18-carat white gold case is rectangular in form, yet cut at the top and bottom to accentuate the thin circular bezel and dial. The circular dial is designed with a printed square that provides a frame for the rectangular hour-markers. This explorative combination of geometric forms gives a highly esoteric result.
1962. Asymmetry
The late 1950s and 1960s also witnessed the birth of wildly creative asymmetrical watches that pushed the boundaries further than ever.
These horological creations would have been unimaginable only a decade prior. This eccentric watch from 1962 is exemplary of unconventional design at Audemars Piguet with its circular-type asymmetrical case form that spreads outwards in both directions, creating an optical effect never seen before on a wristwatch. The dial design is both highly complimentary
and equally rule-shattering with a flared design and two-tone finish that works in harmony with the case. The inclusion of a centre seconds hand creates yet another layer of visual experience for the person wearing the watch.
1972. A Body of Steel
Highly unconventional and entirely unexpected, the Royal Oak, designed by Gérald Genta and first introduced in 1972, is a design milestone in the history of 20th century watches.
In direct continuity of the 1950s and 1960s, the watch is a canvas for eccentric creativity in form and powerful design codes that had been long explored at Audemars Piguet. The large octagonal bezel with hexagonal screws, the tonneau-shaped case, the circular dial with engine-turned tapisserie dial, and the exquisite bracelet with highly faceted links that descend in size are all central to its iconic design and the distinct impression it leaves. Originally produced in stainless steel, the choice of metal was also central to its design as the material had never been handfinished with such levels of detail. While often referred to as the "first luxury sports watch", it changed the way people wore their watches and sent the watchmaking industry into a new direction.
2002. Unapologetically Futuristic
As more advanced technologies including CNC and CAD entered the picture, Audemars Piguet leveraged these tools while always
keeping the focus on traditional watchmaking. CNC (Computer Numerical Control) is a system by which metals, ceramic and other materials can be precisely cut to exact specifications. CAD (Computer Aided Design) files provide the blueprint and instructions for the CNC process. It was this balance of high technology and deep tradition that paved the way for the Royal Oak Concept in 2002 – another design milestone that established an entirely new aesthetic for 21st century watchmaking. The first Concept was an unapologetic futuristic watch conveying precision and complexity. The traditional Royal Oak case is still perceptible, yet the form language has evolved. Its Alacrite case and titanium bezel are also innovative. There is no traditional dial – instead the movement is on full display as part of the design aesthetic. The Royal Oak Concept opened the doors to a complete new category of watches unseen before.
Never Standing Still
Constantly reinventing itself, while never losing sight of its origins, Audemars Piguet never stands still.
With the emergence of the digital age, Audemars Piguet has kept following its own path, using transformative technologies to create ground-breaking timepieces. Passionate, innovative, and persevering, Audemars Piguet's craftsmen continuously develop new skills and techniques, broadening their savoir-faire to set rule-breaking trends.
PHOTOS COURTESY OF @AUDEMARS PIGUET
Jasmine Audemars, Chairwoman of the Board of Directors
"At Audemars Piguet we constantly challenge ourselves to push the limits of craftsmanship. Endowed with a strong spirit of independence, we proudly own our roots and territory, daring to combine precision and creativity. Faithful to our legacy, we continue to evolve by preserving and rewriting traditions."
Challenging the Limits of Craftsmanship
For over 144 years, Audemars Piguet has nurtured generations of talented craftspeople dedicated to practicing their skills at the highest level, building on tradition, while consistently breaking the well-mastered rules of horology.
Never taking its savoir-faire for granted, Audemars Piguet continuously challenges its practices and production standards in an endless quest for artistry, excellence and technical perfection.
Michael Friedman, Historian
"Audemars Piguet has always operated beyond the conventions of the traditional watchmaking industry. For well over a century, Audemars Piguet artisans have been experimenting with form and design language in almost every conceivable way.
Traditional geometries like rounds, squares and rectangles have been used for case forms independently, and in conjunction with unconventional shapes including trapezoids and octagons. A multiplicity of expressive and artistic dials, comprised of varying materials, colours, indexes, signatures and numerals, have complemented these highly unconventional case forms.
These creative watches have also housed impeccably hand-finished movements steeped in tradition, yet presenting increasing innovations for each generation."
Innovation: Introducing Augmented Reality
In 2018, the research team from Audemars Piguet unveiled a neat piece of equipment in front of their horological peers at EPHJ (Environnement Professionnel Horlogerie Joaillerie), the world's high precision trade show exhibition dedicated to watchmaking and jewellery, microtechnology and medical technologies. Called the ChronoSim, this compact device is the first watch interaction simulator, and it is stirring a great deal of interest in watchmaking circles.
Developed in partnership with high-tech company Force Dimension, the simulator incorporates haptic technology, Force Dimension's cutting-edge specialisation. Using Augmented Reality, this technology reproduces the sense of touch by giving detailed force feedback about an object's resistance, surface texture and finish. The technology is used in a variety of applications, most notably in robotic surgery where it has been adopted by surgeons to operate with higher dexterity, leading to improved patient safety and procedural outcomes.
The Audemars Piguet research team grasped how haptic technology and Augmented Reality might usefully apply to watchmaking. They knew the work of Force Dimension through the EPFL network and were convinced that they could help Audemars Piguet speed up aspects of their development processes. They also identified the development of the winding mechanism as a promising application for proof of concept when it normally takes several prototypes to arrive at the right result and days of assembly, testing, recording and dismantling to get winding functions with the appropriate client appeal. In less than a year, a fully operational simulator device was created.
Improving Results and Saving Time
ChronoSim is the first watch interaction simulator that simulates the action of the watch's winding-stem and crown for push and pull, winding and re-setting dates and hours, as well as for the chronograph pushpieces. Working with a real watch case but with a virtual movement, the operator can adjust resistance parameters for all these operations thanks to the detailed force feedback received. Indeed, this digital tactile information translates into sensorial output that allows the operator to instinctively feel and interact with great precision in an augmented environment, and helps generate mechanical solutions before the movement is conceived.
The device not only anticipates problems from the start thanks to the real feel simulation it enables, but it can also study technical problems in a few minutes. The device can operate both ways: by entering forces and test the sensorial output, or by defining forces through touch and force feedback. Being able to test different parameters—hundreds of combinations in a short period of time—ChronoSim allows to find solutions quickly and save time. What usually took weeks or months of work can be achieved in a matter of days. The only prerogative is having the real design ergonomics of the watch's crown. Using 3D printing technologies the crown or chronograph push button design used to test the virtual movement can quickly be adapted.
Reversely, ChronoSim can also help determine the design of the crown for a given model, or the ergonomics of the pushpiece, when the movement is already developed.
Opening New Doors
The only existing device is currently used by various Audemars Piguet teams. Further applications might be developed to help with material specification or training in the near future.
For Force Dimension, this project is also the start of something bigger, taking them into a new industry. As Patrice Rouiller, Force Dimension co-founder and Head of Manufacturing and Product Development remarks:
"Audemars Piguet watchmakers are a bit like brain surgeons! The precision they require for their watches challenged us to completely rethink our way of computing and displaying forces beyond our best surgical robot interfaces available today."
Audemars Piguet Chief Executive Officer François-Henry Bennahmias adds:
"We're here not just to preserve the art of fine watchmaking, but also to develop it with new materials, innovative techniques and new technology. With ChronoSim, we're not only improving the way our clients experience our timepieces, we're also cutting out time that doesn't add value and giving it back to our watchmakers so they can fill it with more rewarding work. We are all in favour of new technology that improves performance and makes people happier!"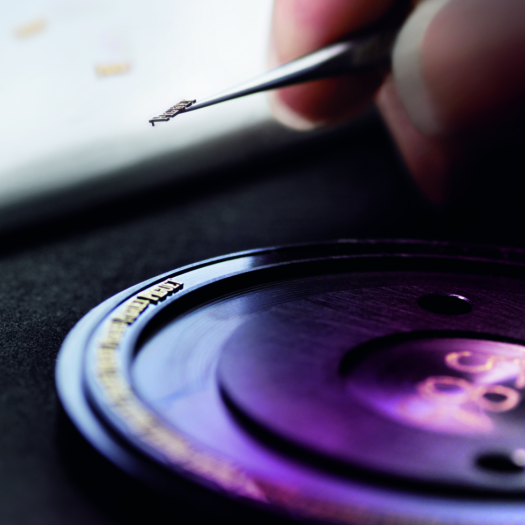 Code 11.59 by Audemars Piguet
"Code 11.59 by Audemars Piguet" stands for its genetic code. On the brink of tomorrow. 11.59 is ahead of the game. Classic by nature and unconventional by design, Code 11.59 by Audemars Piguet chooses it all. This collection demanded new tools, skills and techniques to reach an exceptional degree of technical and aesthetic complexity. Code 11.59 by Audemars Piguet is about human challenges. It tells the passionate stories of the dedicated watchmakers who dared to follow their convictions, joined forces and persevered, always pushing their own limits.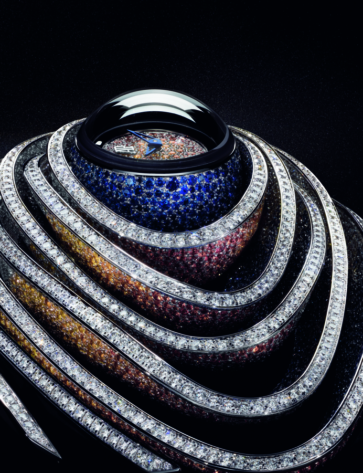 Haute Joaillerie
High jewellery, horology and design cues from nature have united in Audemars Piguet's Haute Joaillerie collection since 2013. Started in 2015, the Diamond trilogy (Diamond Punk, Diamond Fury and Diamond Outrage) was inspired by the wintery and rugged landscape of the Vallée de Joux, and combined traditional gem-setting techniques with unconventional design for a distinctive effect of elegance, strength and power. This unique creation pushes gem-setting craftsmanship to new heights. Named after the river that crosses Le Brassus, home of Audemars Piguet, Sapphire Orbe embodies a glittering river of diamonds and sapphires in graded hues of blue and orange, as night merges into day.