An artistic and architectural chef-d'œuvre
The story began more than 20 years ago with a unique encounter. That of two watchmaking cultures: one, English, embodied by Stephen Forsey, and the other, French, exemplified by Robert Greubel. A meeting that took place in the Swiss Jura, the birthplace of Swiss watchmaking culture.
The two creators shared not only a similar life philosophy, but also the same vision of mechanical watchmaking and of that perpetual quest for excellence. When it came to watchmaking, their vision was clear: they refused to believe that everything had already been invented and were driven by a strong belief that pivotal advances were yet to be imagined.
With a deep feeling of mutual respect, driven by an energy that could move mountains and their unshakeable faith in watchmaking culture, together they embarked on the adventure of their lives, convinced of the synergy of their personalities and experience.
Intense research and development enabled them to discover new horizons; they invented and developed revolutionary watchmaking mechanisms. Endowed with an adventurous spirit, a form of extravagance and creative frenzy without which limits could not be pushed beyond what is reasonable, they also had the audacity to break the rules.
In 1999, a basement in La Neuveville, in the canton of Bern, became their workshop. There, they developed a new generation of tourbillon. They spent their weekends and holidays there, as well as countless sleepless nights to develop this innovative concept. This ground-breaking work gave rise to their first invention: the Double Tourbillon 30°. Already their unique approach convinced them to consider the future re-inventing other emblematic complications of mechanical watchmaking.
After several years of hard work and sacrifice, though still imbued with the same infectious passion, they decided to present their invention to a major watch brand as part of the CompliTime Greubel organisation. Alas, their new generation Tourbillon proved to be too innovative and ahead of its time for that industrial to grasp. Convinced of the potential of their creation and without a franc to their names, they created the Greubel Forsey signature. They then rose to meet one of their greatest challenges: to themselves create an exceptional timepiece harbouring their first Fundamental Invention. The next chapter of the story continued with triumph at Baselworld 2004, where they showed their highly original timepiece that stood out for its inventiveness, chronometric performance, and the excellence of its hand-crafted finishing.
Sharing the expertise
Robert Greubel and Stephen Forsey felt they needed to share their expertise and experience by working collaboratively with a team. This is how they surrounded themselves with colleagues of rare skill, each playing a specific role and contributing, through their work and commitment, to the pursuit of this unconventional human, technical and creative adventure.
Since then, they've been seeing their ideas through, steadily and resolutely, from concept to realisation. Their visions, not a marketing driven approach, have charted their course in a very natural way. They wanted to create exceptional timepieces that measured up to their standards. It would have been unthinkable for them to sacrifice research or quality workmanship for any
external considerations whatsoever. Even if for some, their decisions and their philosophy may have seemed out of step at times, they've never gone down the route of making concessions.
Ever since the earliest Greubel Forsey creations, the artistic dimension has crystallized the intense passion that presides over their creativity. Artistic research is a pivotal part of their modus operandi and they consider it their authentic means of expression.
The profile of Greubel Forsey creations has steadily grown over the years, receiving many awards including the prestigious Aiguille d'Or at the Grand Prix d'Horlogerie de Genève, which they've been awarded twice. The Prix Gaïa – the Nobel Prize of watchmaking – brought their entrepreneurial approach an official stamp of approval. But the award that means the most to Robert Greubel and Stephen Forsey is definitely first prize at the Concours International de Chronométrie, which they won with a score of 915/1000 – a performance that's unequalled by a brand to this day. It's the ultimate reward for all their efforts to bring innovation to mechanical watchmaking.
A new key page has been turned in the last two years with the Mechanical Nano project, bringing with it the promise of extraordinary watchmaking innovations.
The story of Greubel Forsey continues…
Art of Invention
Over the years, Greubel Forsey's means of expression have become established as a natural movement. They have become aware that the brand's philosophy and areas of interest extend beyond watchmaking. They have always carved out their own path, to never depend on the traditional laws of markets and marketing, and to embrace a quest for excellence and irrepressible need to create and achieve a high standard of craftsmanship. These methods enable them to exceed the limits of what is possible every day.
For GF, creation is inseparable from the day-to-day reality of watchmaking that they live and breathe. The symbiosis of highly technical and artistic elements is a cornerstone of Greubel Forsey, and all of the brand's creations inevitably arise from this hybridisation.
To date, six of their seven inventions have found concrete applications: the Double Tourbillon 30°, the Quadruple Tourbillon, the Tourbillon 24 Secondes, the Double Balancier, the Mechanical Computer and the Différentiel d'Égalité. Greubel Forsey's daily mantra is to preserve their creative spirit, to continue to surprise, and to aim for excellence, now and forever.
Time Ӕon Foundation
Throughout their careers, Robert Greubel and Stephen Forsey noted the inexorable loss of knowledge and expertise in traditional mechanical watchmaking. Far from resigning themselves, they have endeavoured to develop, with other watchmakers who shared the same observation and values – Philippe Dufour, Vianney Halter and Felix Baumgartner – the Time Æon Foundation. A commitment to protecting watchmaking excellence and preserving the world's watchmaking heritage.
An ambitious programme has been implemented with the foundation. It seeks to perpetuate the expertise of watchmaking excellence and promote its transmission to future generations, if possible by encouraging vocations among young watchmakers. A very important aspect is the support and training of future independent watchmakers who wish to promote watchmaking excellence.
Time Æon Foundation shares this vital mission with the public as evidenced by the «Naissance d'une Montre 1 and 2» projects.
Workshops
In line with its mission to safeguard the expertise and methods of the watchmaking tradition, the Time Æon Foundation regularly organises workshops dedicated to the decoration of mechanical watch movement components. They are predominantly led by watchmaker Michel Boulanger, who participated in the «Naissance d'une Montre 1» project, and sometimes led by Philippe Dufour, an independent watchmaker of great renown.
Interns, students of watchmaking, as well as watchmakers wishing to learn the basics of certain traditional "handmade" decoration can be initiated in some of the art's demanding techniques.
They are introduced to graining the flanks of a bridge, polishing bevels, bow polishing the countersink of a screw-head recess, jewel setting and countersink polishing with a bow, graining the underside, steady pin fitting and the decoration of steel parts.
Upon completion of the workshop, each trainee is awarded a Time Æon Foundation diploma signed by Robert Greubel and Stephen Forsey.
Naissance d'une Montre 2
The Time Æon Foundation is a patron of Dominique Buser and Cyrano Devanthey's new watchmaking adventure, with the support of watchmakers Robert Greubel, Stephen Forsey and Felix Baumgartner, all active members of the foundation, along with watch designer Martin Frei.
This new watch will be entirely crafted using traditional, «hand-made» methods. The adventure is above all a human one, telling the story of a traditional craft passed down from master to apprentice for centuries. It is not a case of creating a watch in a historical style, but rather perpetuating a craft that, while rooted in the past, has proven itself to be utterly contemporary. Mechanical watchmaking is in fact a living medium that never ceases to enrich and renew itself through the generations.
Hand-crafting a watch using historical machines means breaking free from industrial constraints and therefore rediscovering total creative freedom. When adopting this approach, we can no longer talk of a «product», but rather an authentic piece of work, with a soul: that of its creators.
This watch will be fitted with an entirely atypical inverted movement. On the dial side, with the hours and minutes in the centre, lies the constant-force barrel system with its differential, a large balance wheel with an extraordinary shape, fitted with four arms. The case back features a large power reserve indication.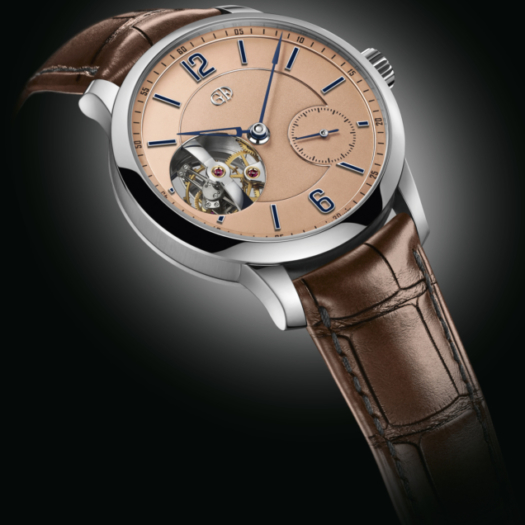 Invention Pieces
To pay homage to their Fundamental Inventions, Greubel Forsey reinterprets its original timepieces by creating Invention Pieces.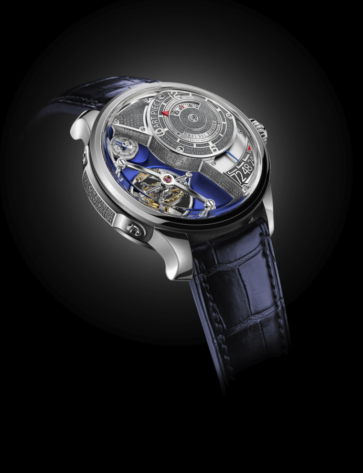 Art Piece Edition Historique
Art Pieces
The initial impulse that gave rise to the Art Piece Collection was generated by a desire to create points of convergence between the world of plastic arts and that of the art of watchmaking. This is a ground-breaking new zone of expression that Greubel Forsey intends to share with artists whose aesthetic language is in resonance with its own universe.