Origins
The long history of the Royal Savoy Hotel & Spa Lausanne goes far as back as 1906, when the Hotel Royal limited company was created. At the time, the hotel and leisure industry was at its best stage, thanks to the local Simplon railway line. It was that time, when three architects – Charles Mauerhofer, Adrian van Dorsser and Charles-Francois Bonjour – were tasked with building a magnificent structure.
What they envisioned was for the hotel to be a monumental landmark. The entrance reveals a lobby with ceilings as high as 8 meters and a staircase surrounded by large mirrors and geometric stained glass windows, created by Lausanne-based glassmaker, Drevars.
The hotel is full of architectural wonders, such as the suspended reinforced concrete floors – which were a technological miracle at the time, but still manage to amaze the guests of the hotel.
Aristocratic Refuge
Three years after works had begun, this remarkable hotel – wiht Art Nouveau Style and Neo-Baroque elements – opened its doors! The hotel and its layout were furnished with noble materials, and soon became one of the must-see establishments in the area. The Royal Savoy's frequent hotel guests included railway users, with passengers from the prestigious Orient Express being amongst them. The hotel did not have its current name, as at the time, it was called "Hotel Royal".
The century-old building and its magnificense attracted aristocracy, renowned personalities and royalty. So, it does not come as a surprise that the Spanish Royal Family chose it as their residence while being in exhile for many years. Other royal guests were the King of Thailand, Queen Fabiola of Belgium and Prince Victor Emmanuel of Savoy. An of course, celebrities could not be an exception, with gold medalist Carl Lewis and Brazilian footballer Pele being frequent visitors of the hotel.
An Exceptional Heritage
Decades after its operation started, the hotel was running out of steam. None of the needed investments needed to upgrade the establishment had been made and this had started to impact the hotel's performance and occupancy.
In 2008, the Royal Savoy Hotel & Spa was bought over by the Barwa Real Estate holding and was added to Katara Hospitality Group. With more than 40 years of a strong experience in buying and upgrading legendary hotels, the group was aiming higher, to the complete refurbishment of a historic building, the creation of a new wing and a 5-star rating.
This project was estimated to have cost CHF 100 million in total!
Comfort, Charm and Modern Amenities
The Royal Savoy Hotel & Spa Lausanne consists of 196 rooms and suites, 101 of which are located in the historic building and 95 in the Garden Wing. All rooms and suites have been refurbished in keeping with the hotel's architectural heritage, combining comfort, charm and modern amenities. Each room has its own special features and offer guests a new experience and a renewed delight withe every visit. All rooms come with a modern and contemporary lighting design and wonderful polished wooden floors, while the elegant marble-lad bathrooms are equipped with rain showers and some with Japanese bathtubs.
The restaurant "La Brasserie du Royal", which has a capacity of 120 covers, is split into 4 distinct rooms, extending to a garden terrace. The Lobby Lounge / Lounge Bar is at the heart of the historic building and the outstanding height of the ceiling can host 60 guests in an elegant, chilled and international atmosphere.
The Sky Lounge, also part of the historic building and located in the 7th floor terrace, features a 360-degrees unique panoramic view of Lausanne.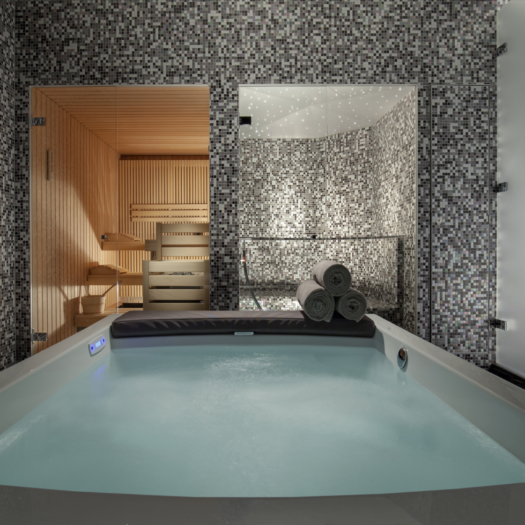 LE SPA DU ROYAL
A heaven of relaxation, beauty and well-being: Le Spa Du Royal is a place where guests can unwind, feel the serenity and positive vibrations that are the essence of the spa. Le Spa Du Royal offers connected heated indoor and outdoor swimming pools, wet areas including vitality pools, sauna, jacuzzi, ice fountain, pedispa and steam rooms. Its facilities also include a 24-hour gym, a well-being retail space, a hairstyling salon, a ladies-only spa, two private spas and modular and private spaces on request. For guests who seek excellence, the Royal Savoy Spa offers a wide range of services, state-of the art amenities, special offers and - of course - its knowledgeable staff.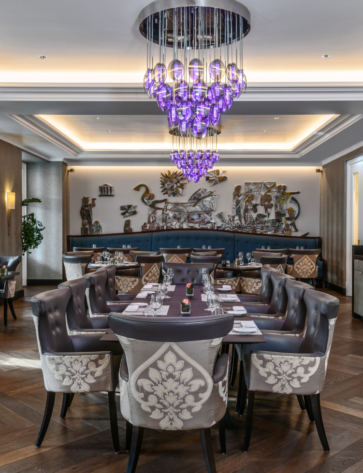 LA BRASSERIE DU ROYAL
With a capacity to host up to 120 guests, La Brasserie Du Royal has a simple, elegant and contemporary decor. Its four rooms include the Great Room, the Buffet, the Alcove and the Veranda, while also offering a 40-cover terrace, with garden view. From breakfast to lunch to dinner, the chic establishment provides a modern take on the traditional French cuisine. While breakfast is served on a buffet, lunch and dinner feature a more traditional cuisine, with authentic taste. On their way to La Brasserie Du Royal visitors will go through the "corridor of the senses", showcasing a unique showcase of local products, such as wines, delicatessen, cheeses and cuts of ageing meat.